Shagreen has been prized since the time of the pharaohs in Egypt and during the Chinese Han Dynasty (202 BC – AD 220).
In China, it was used in the construction of bows.
In Japan, shagreen has been well-documented and preserved since it began appearing on the sword hilts and armor of Japanese Samurai during the Middle Ages, dating back to at least the thirteenth century. This preservation is attributed to its textured surface, which provided a reliable grip. However, there is no evidence to suggest that shagreen was used in Asia during this time to decorate furniture for their domestic market.
The earliest known examples of furniture decorated with ray skin were actually produced in Japan but were intended for the European market. These items were initially brought to Europe by Portuguese traders in the late sixteenth century.
During this period, the Portuguese were importing substantial quantities of lacquerware from Japan to Europe. This early export lacquerware is commonly referred to as "namban," a term that translates to "Southern barbarian" and was used by the Japanese to describe all foreigners except the Chinese and Koreans. The lacquer workshops tailored their production to meet the preferences of Western traders. Furnishings were crafted in shapes that would have been familiar to Europeans, and the lacquer decoration often exhibited inferior quality compared to objects made for Japanese consumers. Some of these items incorporated shagreen.
The Dutch, who replaced the Portuguese as the dominant European naval power trading with Japan in the early seventeenth century, also imported furniture decorated with shagreen and lacquer.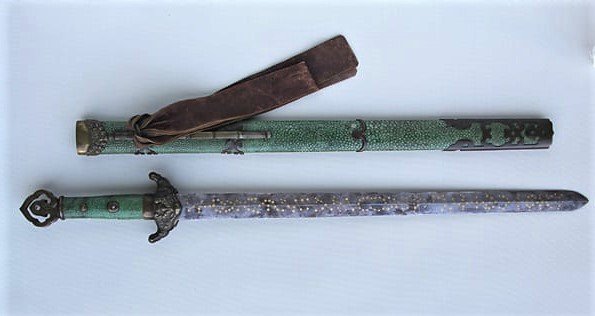 Europe, as we mentioned before began importing shagreen-covered objects during the 17th and 18th centuries, and in the mid-1700s, a tanner in Paris became the first European shagreen expert (his name, Galluchat, has been transformed into Galuchat, and now Galuchat is the French word for shagreen).
Louis XV's most famous mistress, Madame de Pompadour, was the dominant patron of Monsieur Galluchat.
Shagreen became a popular material again in Europe during the Art Deco era, when designers sought to fuse the French tradition of luxury with exotic and precious materials. Designers like Clément Rousseau and Jean-Michael Frank used shagreen to create their most sumptuous furniture.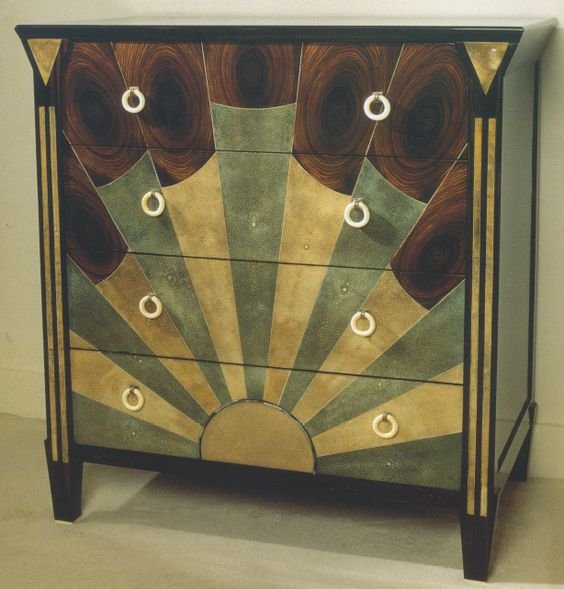 There are few records of its use in Korea.
Due to its high cost, shagreen was primarily used for small pieces, and very few shagreen-covered furniture items have survived to the present day.
However, it is worth noting the presence of several workshops that specialized in this technique on the island of Ganghwa, located northwest of Seoul. While original pieces are rare, some items executed during the 20th century have endured. These pieces of furniture, typically constructed from pine or paulownia, were coated with a thick black lacquer adorned with inlays of shagreen and mother-of-pearl.
The process of creating these pieces was time-consuming and intricate. Initially, the furniture was covered with a fabric that was directly adhered to the wood. The shagreen and mother-of-pearl decoration were then affixed to this fabric, and finally, layers of lacquer were meticulously applied.
The decorative motifs often featured a dragon and a Phoenix set against a floral background.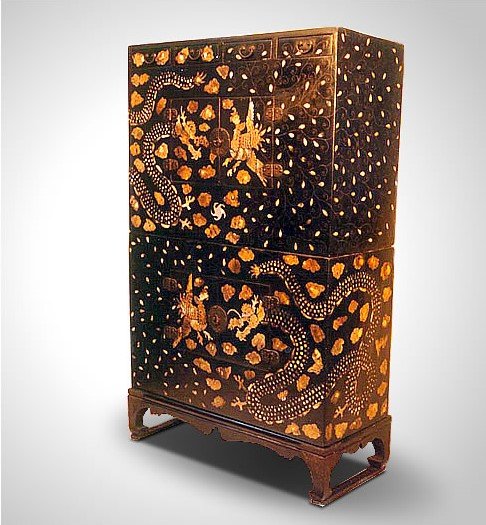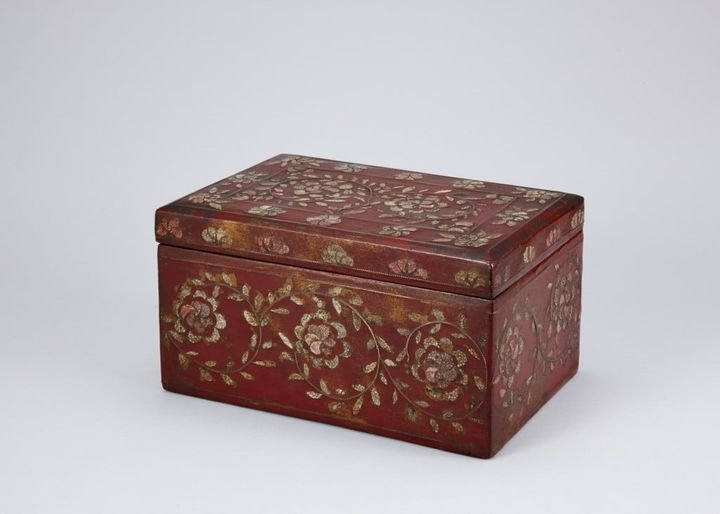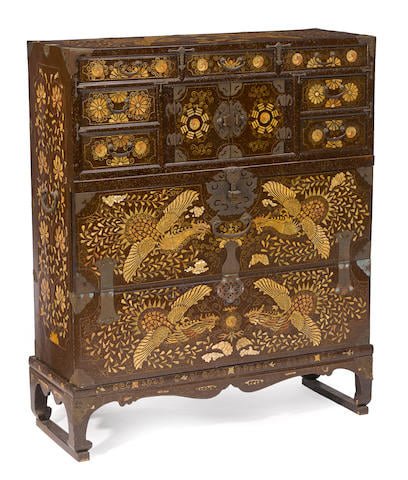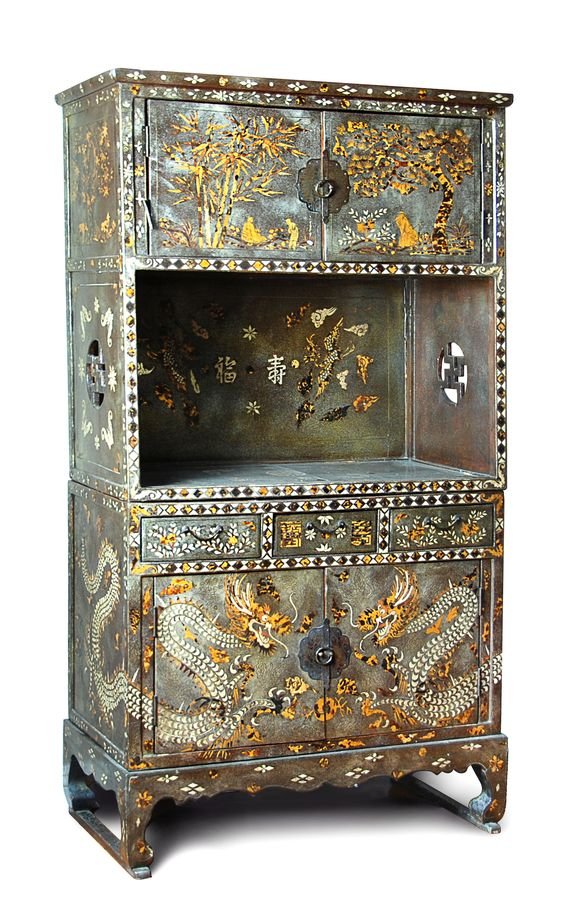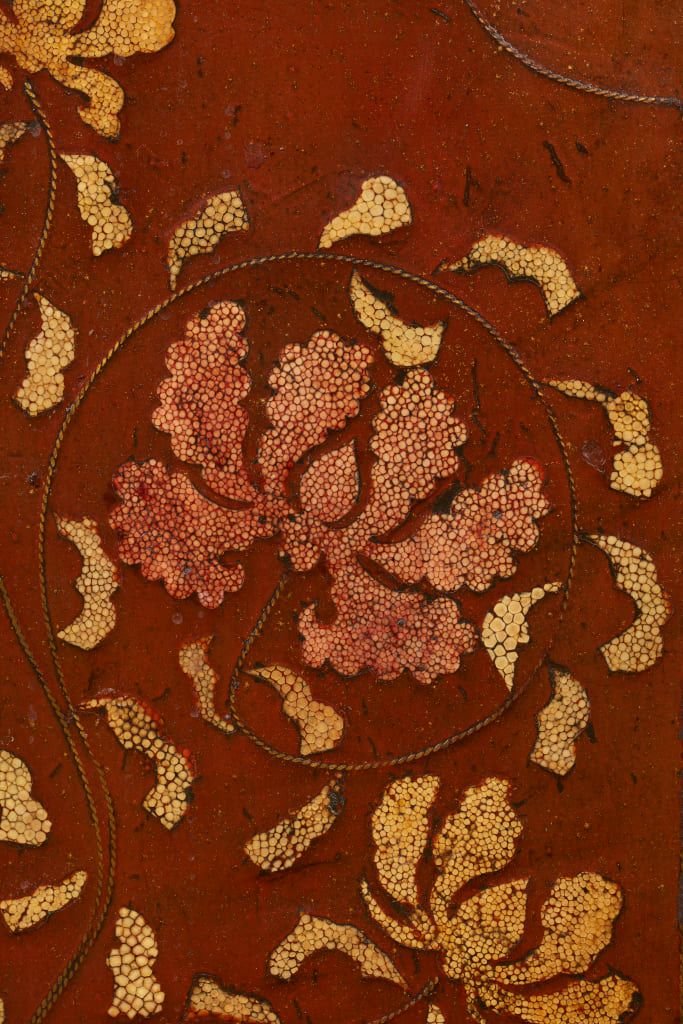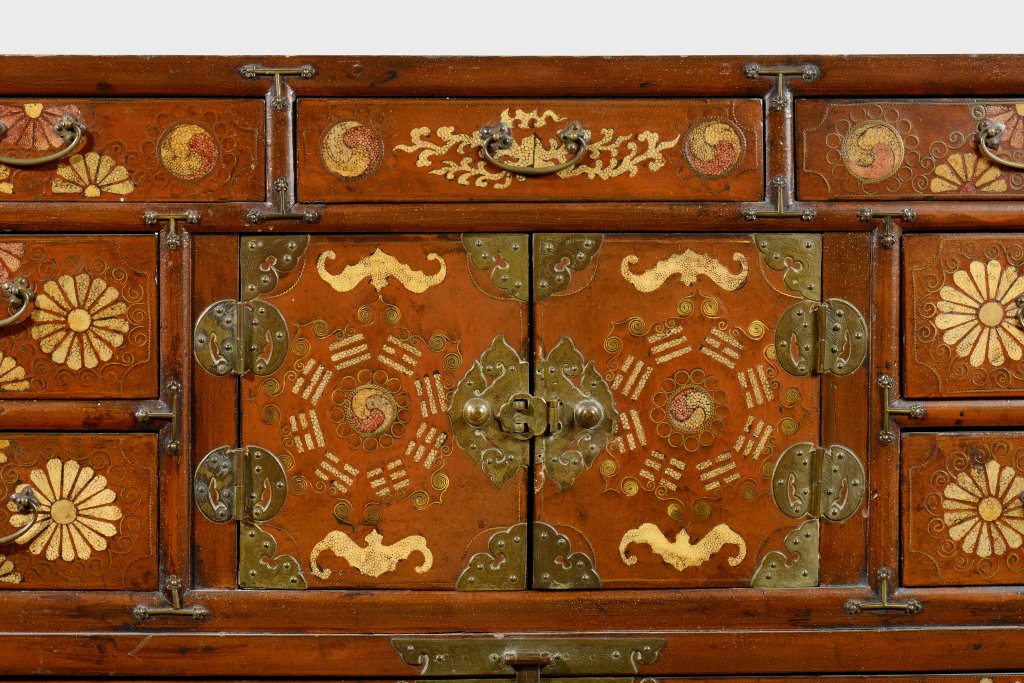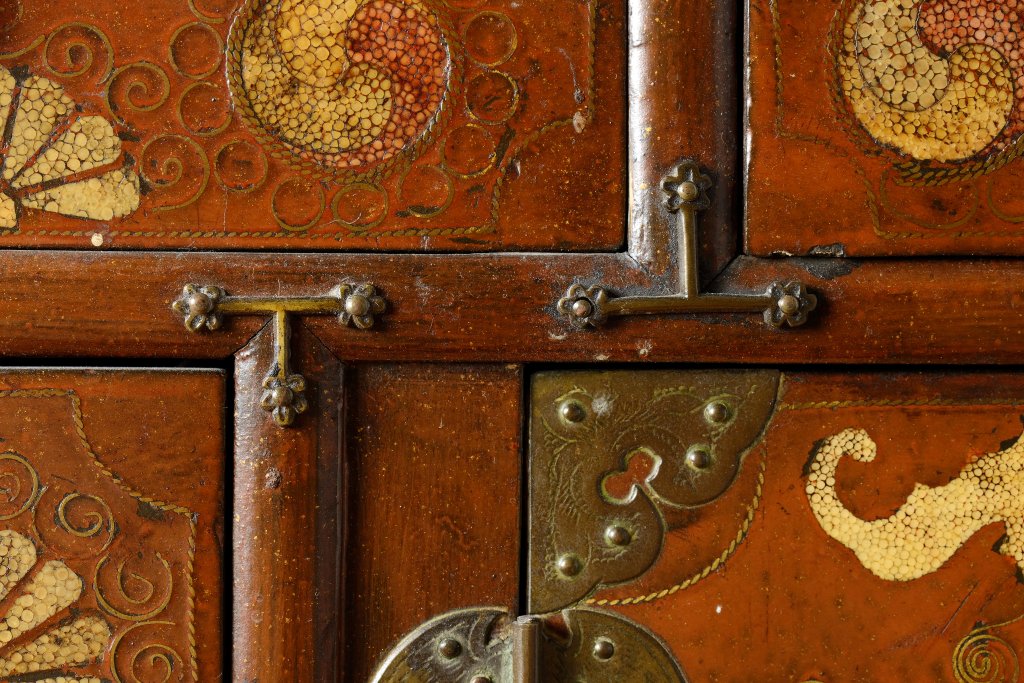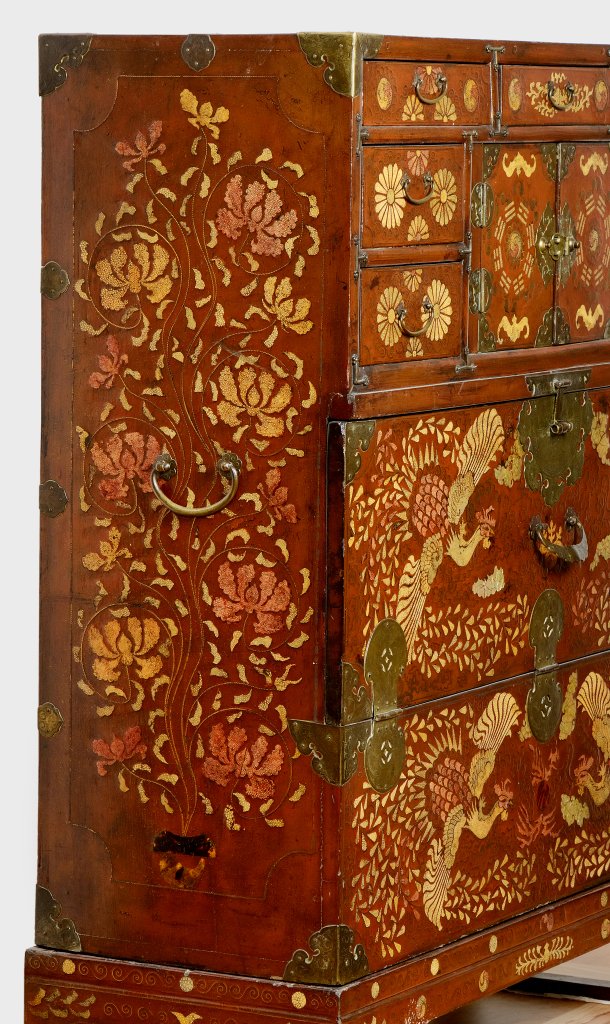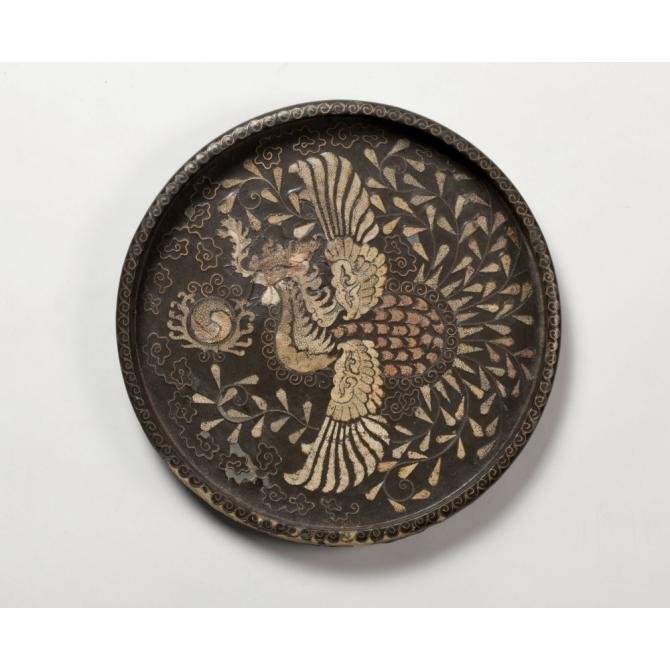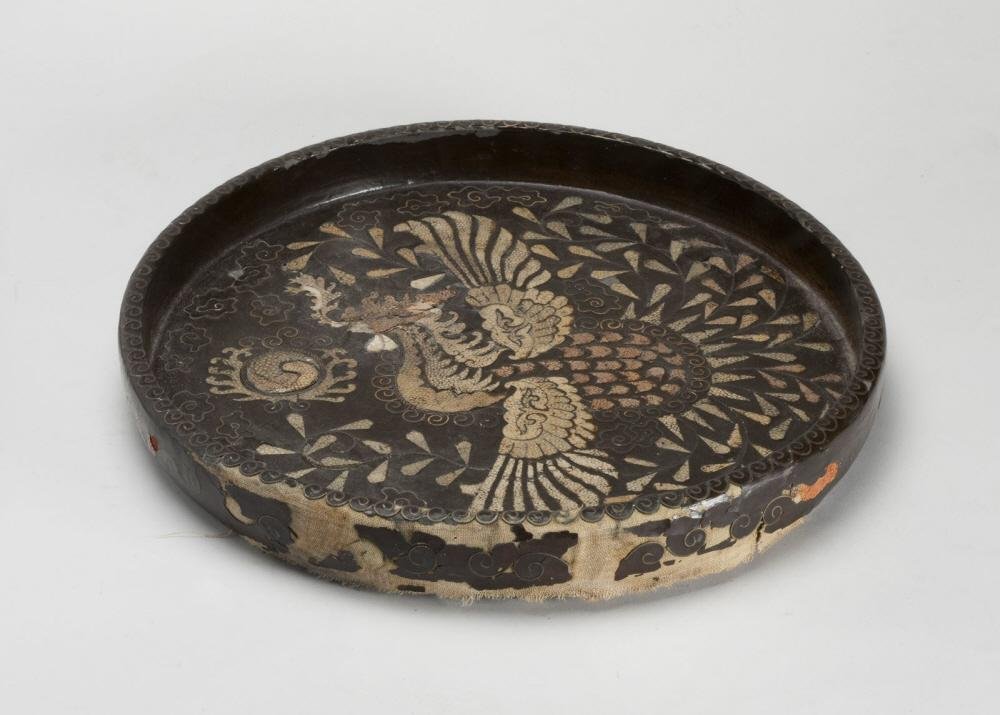 Tray with phoenix motif 봉황 무늬 쟁반 Date: 1850-1910.  Lacquered wood with inlaid ray skin and brass wire. H. 43,5 cm, Diam. 34,3 cm. Collection of Asian Art Museum Chong-Moon Lee Center for Asian Art and Culture.