Featured image on top of this post: Box with Design of Auspicious Symbols, early 20th century.
Ink and paint on ox horn panels on wood, ray skin, and metal.
DETROIT INSTITUTE OF ART MUSEUM, USA
The term "hwagak" is derived from the words for flowers and horns, and it specifically pertains to the craft of inlaying ox horns. The highest quality horns for hwagak are obtained from three-year-old oxen that have been exclusively fed grains, as they exhibit superior transparency.
The process of creating hwagak commences with the heating and flattening of the ox horns, followed by grinding them into paper-thin veneers. Subsequently, skilled artisans adorn the reverse side of the veneers with traditional patterns using a variety of colors.
These painted veneers are affixed to wooden items using fish glue. Finally, the artisan meticulously grinds the surface of the veneers until they are incredibly thin, measuring just 0.045 millimeters in thickness, ensuring that the intricate painting on the reverse side becomes visible.
Hwagak making bears similarities to the ancient Chinese tortoise shell craft. During the Goryeo Kingdom, tortoise shell lacquer was applied to rosary cabinets and other pieces of furniture.
Due to the scarcity of tortoise shells in Korea, artisans turned to ox horns, which possess similar qualities, for crafting items intended for royal families and aristocrats.
The world of ox-horn craft boasts a multitude of motifs, making it challenging to enumerate them all. Nonetheless, these motifs are typically categorized into either animals or plants, and they are laden with wishes for good fortune.
They encompass a wide array of motifs, such as the 10 creatures of longevity, dragons, phoenixes, magpies, and tigers, as well as depictions of flowers and birds.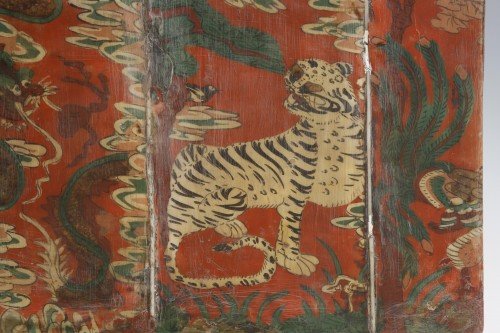 The items decorated with hwagak range from large furniture such as wardrobe, cabinets and chests of drawers to small objects including jewelry boxes, vanity chests, baskets, combs, rulers and spools. Traditionally used to decorated mainly women's personal belongings.
INTERESTING LINKS: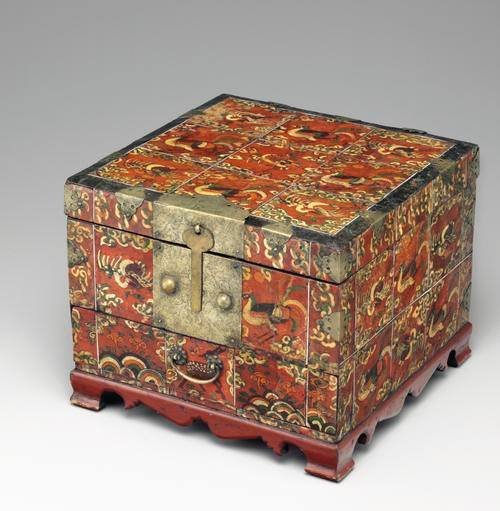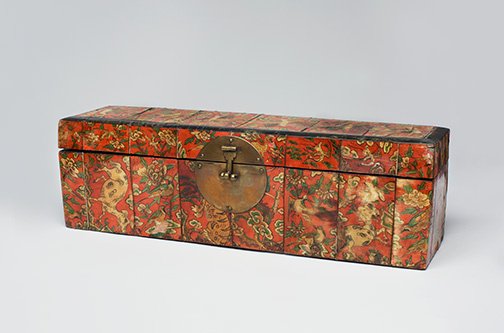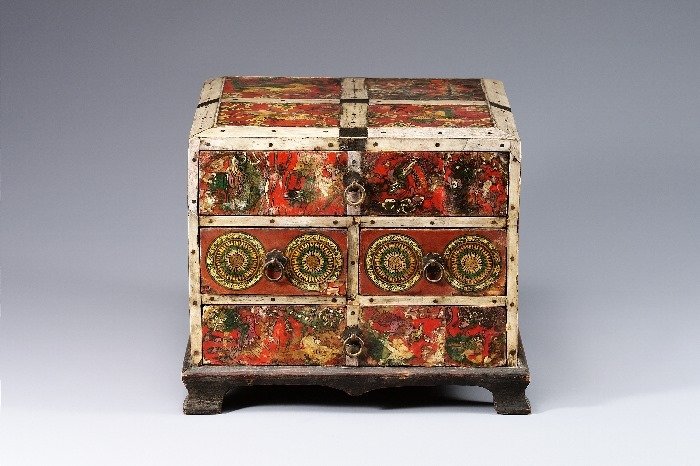 Vintage Korean Reverse Painted Ox Horn Brass Jewelry Cabinet, 1940s
The jewelry chest, or possibly collectors cabinet, is in the shape of a traditional Korean clothing cabinet, with a brass frame and brass fittings.
The doors inlaid with panels of reverse painted ox Horn. The inlaid panels delightfully reverse painted with Korean folk scenes against a vibrant red ground, in a technique called 'hwagak'.The cabinet opens to reveal several storage areas, with another pair of doors above several drawers framed in bone with white brass fittings. The exterior of the cabinet with engraved brass panels of Confucian scholars under trees for the sides, and a water landscape with a duck in the foreground to the top. Inlaid reverse painting on ox horn, know as 'hwagak' in Korean, is a unique form of decoration originating during the Goryeo dynasty. The technique involves sections of horn flattened by water and heat, then sliced into thin, transparent sheets. The sheets are then reverse painted in bright colors before being inlaid on to various decorative items, usually boxes.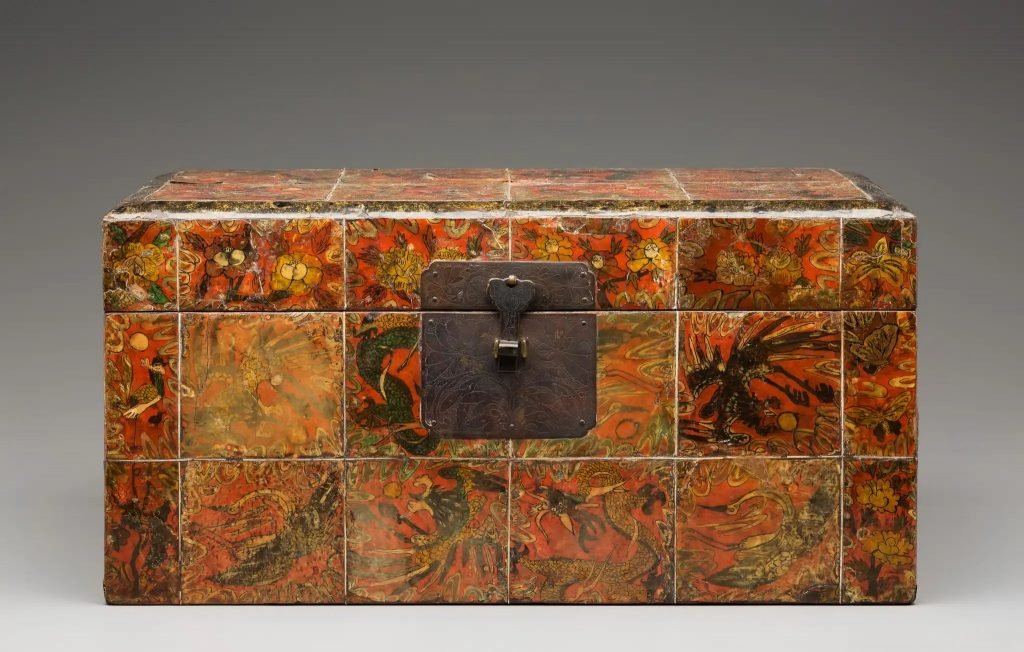 Box with Design of Auspicious Symbols, early 20th century.
Ink and paint on ox horn panels on wood, ray skin, and metal.
DETROIT INSTITUTE OF ART MUSEUM, USA