DREAM OF BUTTERFLY. Kim Hyunhee
"Dream of the Butterfly" is a piece of furniture that reinterprets the butterfly pattern known as "Phalaenopsis" and incorporates it as a distinctive style element. The butterfly pattern was primarily employed as a decorative motif in furniture to symbolize the auspicious themes of "joy and happiness," or to represent the harmony and happiness of a couple within the room or bedroom, traditionally referred to as the women's quarters in the Joseon Dynasty.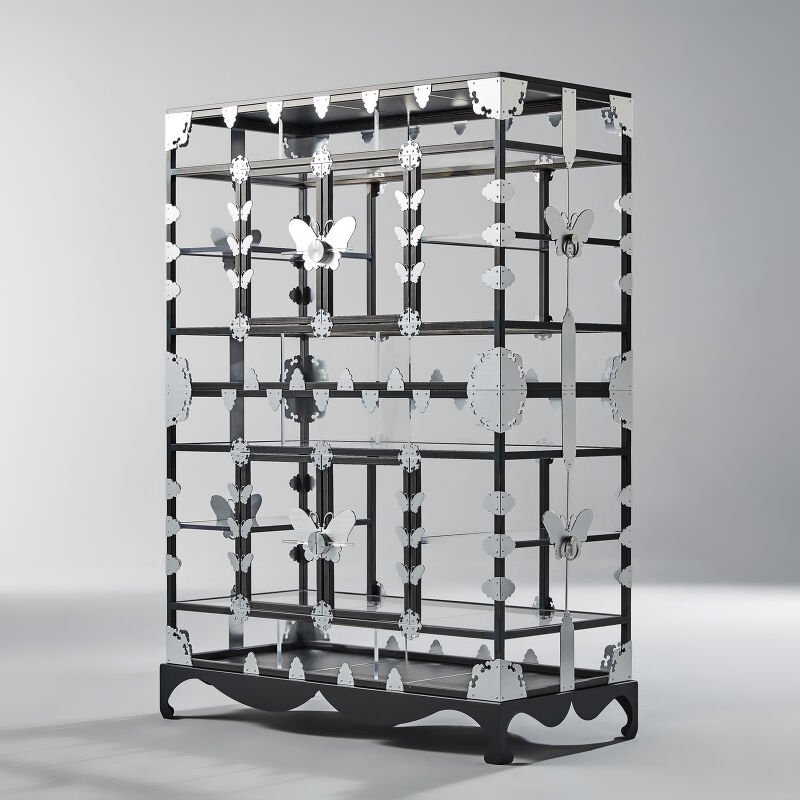 Artist Kim Hyun-hee redefines the meaning of this butterfly.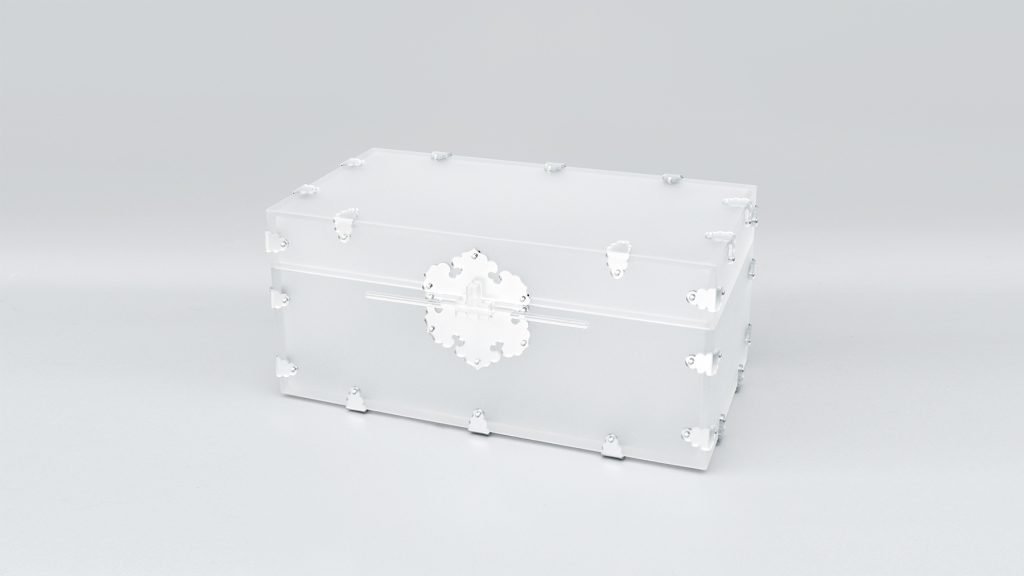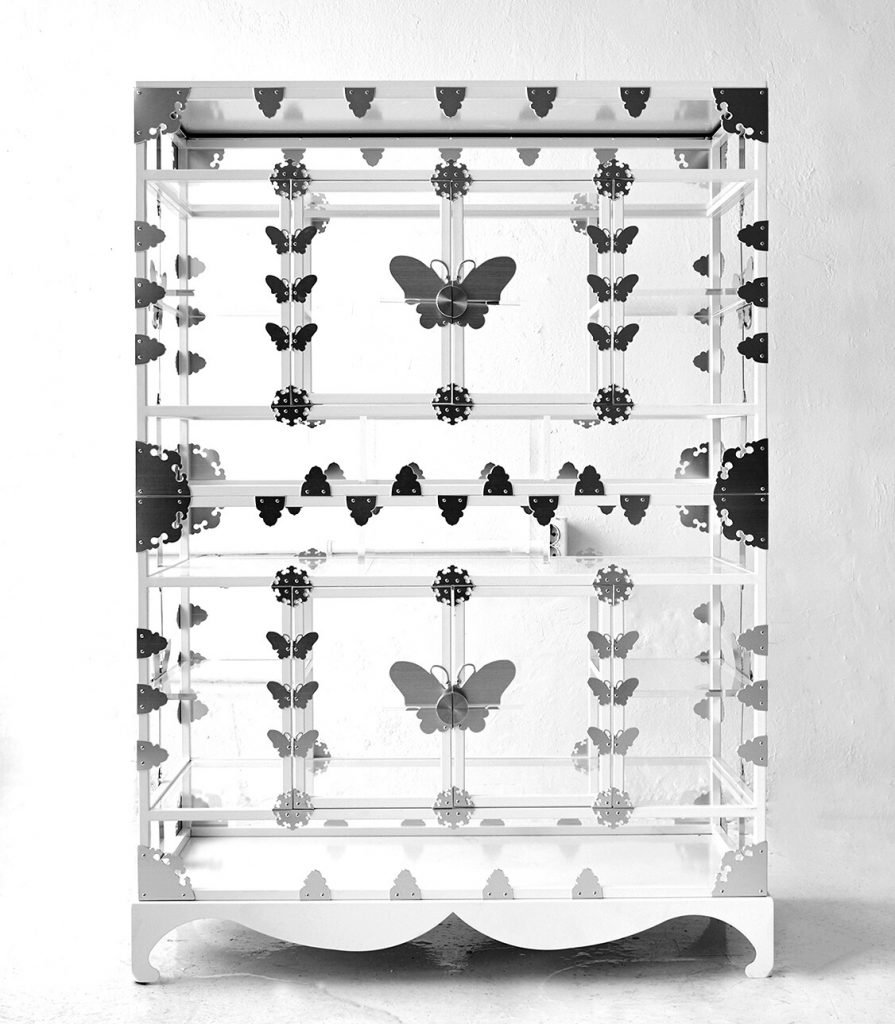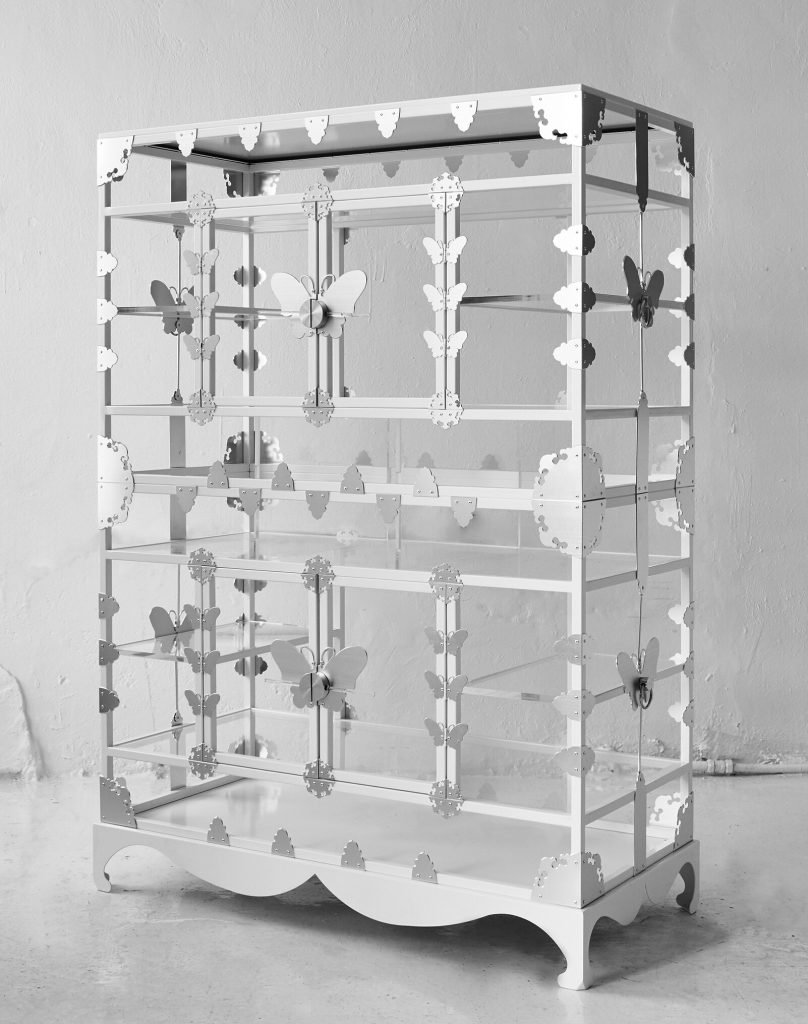 HANJI FURNITURE
In the "HANJI" exhibition, a variety of wooden chests covered with hanji paper were showcased. These three-tier chests, adorned with hanji, feature hanji plastering on their entire surface, except for the frame beams. The paper is also skillfully applied to the edges of the doors. These hanji-covered chests incorporate interior lamps, representing an innovative attempt to fuse traditional furniture, hanji, and illumination. These chests beautifully exhibit the gentle texture and milky hue of hanji while projecting intriguing silhouettes of the items stored inside.
Originally, hanji chests were used as cupboards, specifically designed for storing food due to their well-ventilated structure. The wooden frames were crafted by Park Myeong-bae, while the hanji work was expertly executed by Han Kyung-hwa. This collection was previously featured in an exhibition in Milan, Italy.
Hong Hoon-pyo Joseon Furniture: Joseon wooden furniture living in modern times
The three-tiered hanjijang, measuring H. 120cm, L. 65cm, D. 40cm, is crafted from oak wood, paulownia wood, hanji paper, and iron fittings. The master carpenter behind this exquisite piece is Hong Hoon-Pyo.
This hanjijang by Somokjang Hong Hoon-pyo upholds the rich tradition of the Joseon Dynasty. When examining various existing Joseon furniture items, you'll notice that Korean paper was often used as a substitute for the middle or side panels of doors. The door designs frequently draw inspiration from the traditional window shapes found in "hanok," the Korean Traditional House. Despite the doors' width appearing substantial in comparison to the thickness of the pillars or iron fittings, they maintain a sense of simplicity and elegance, possibly due to their well-proportioned cross-design. Hong Hoon-pyo's Somokjang approach to modernizing tradition seems to harmoniously preserve the aesthetic essence of Joseon furniture.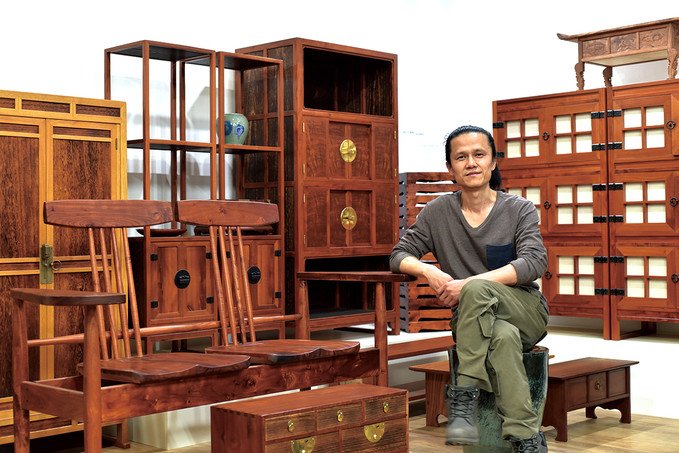 Paper covered cabinets by "Joung Dae Hun" 정대훈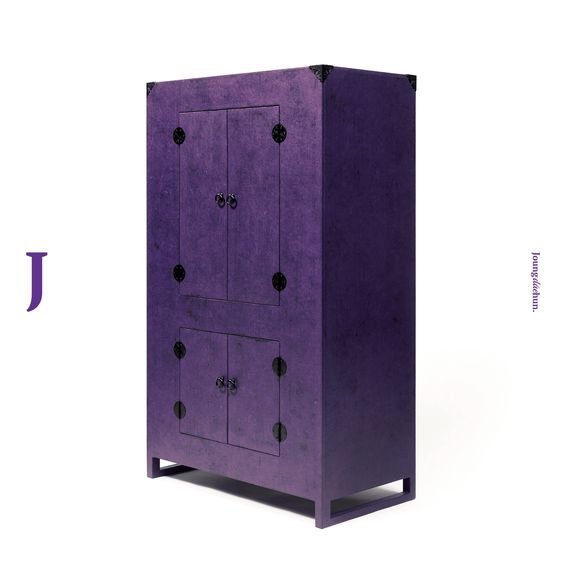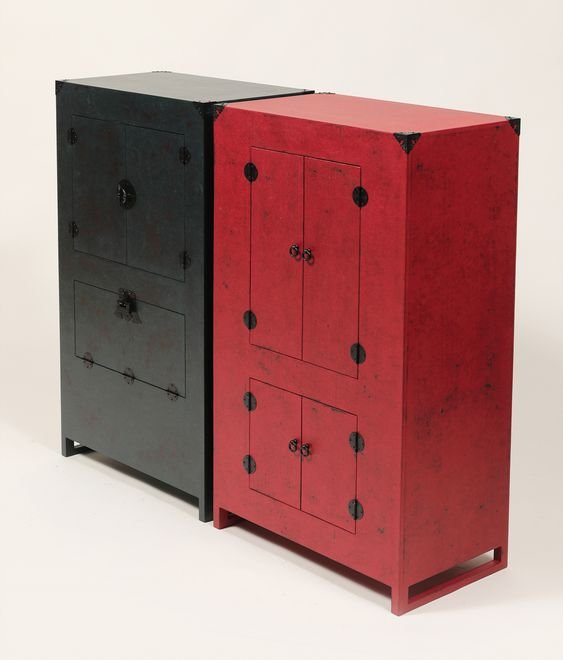 Designer Yongbeom Yoo's Arch Furniture
Ark Furniture is a brand created by designer Yu Yong-beom, who combines tradition and modernity by taking advantage of the strengths of acrylic, and brings out the two styles in harmony.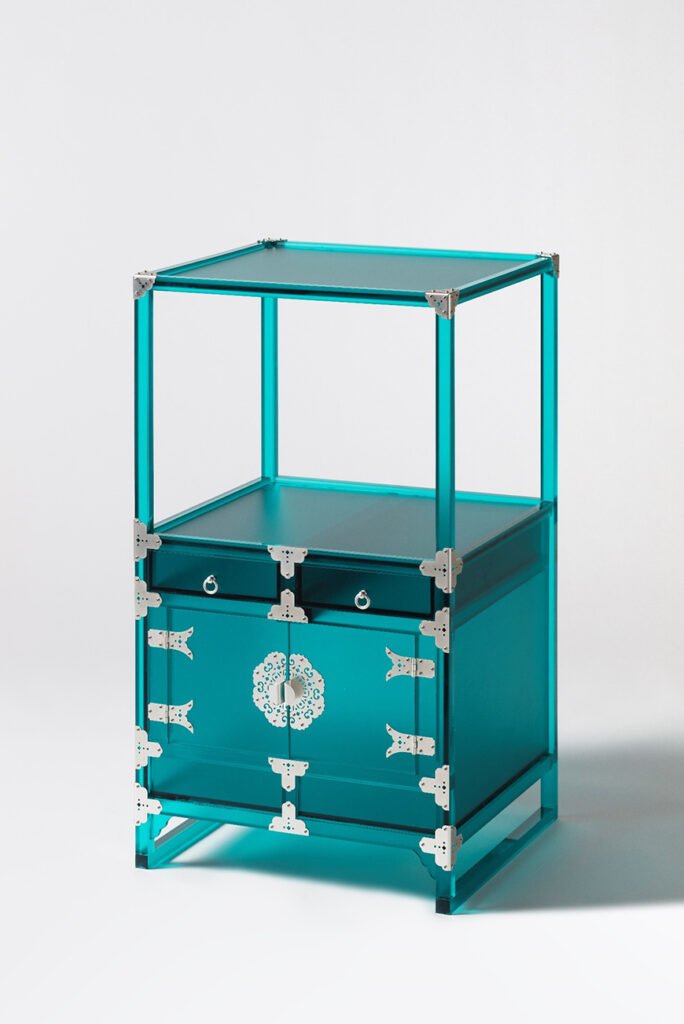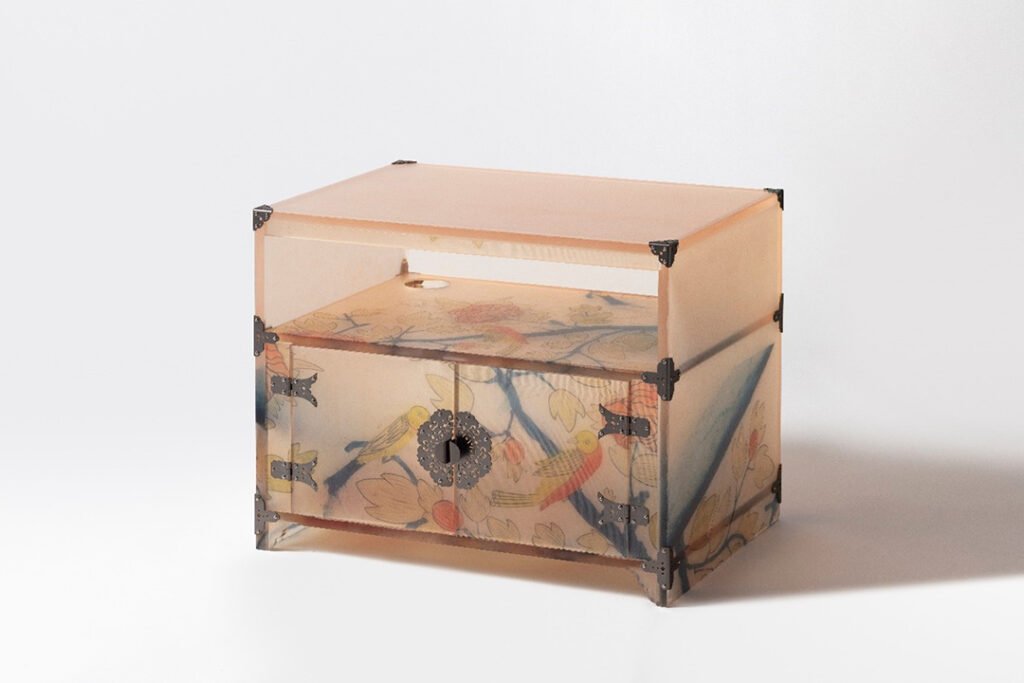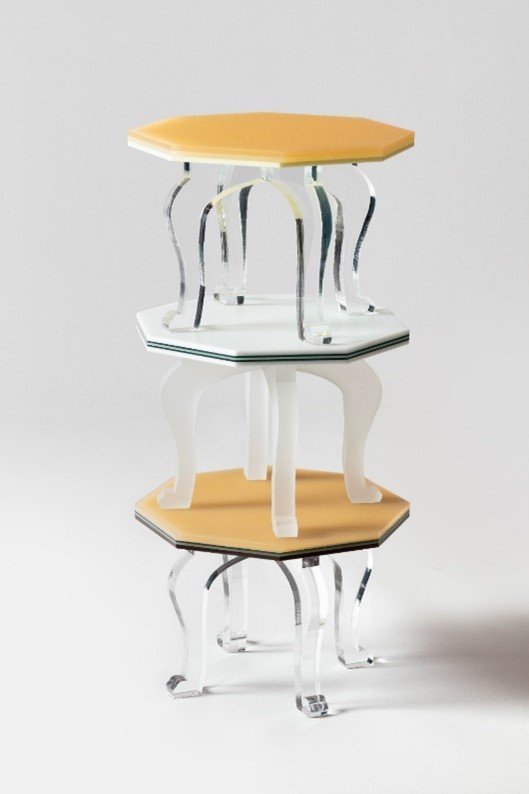 Somokjang Cheon Sang-won
The late Cheon Sang-won's family had been cattle ranchers for several generations in Chungmu, and he naturally became a 'master craftsman.' In 1975, Cheon Sang-won, designated as a national intangible cultural asset and a small farmer, followed in his family's footsteps. He lived in Nuok in Munhwa-dong, Tongyeong-si, Gyeongnam for decades. Mr. Cheon first encountered joinery at the age of ten when he was in elementary school. He watched his father, Cheon Cheol-dong, and began using a saw and a planer. By the age of 14, he was already working in a workshop.
While working as a cattle rancher under his father for ten years, the Pacific War broke out, and he went to the military wood factory park in Jinhae, Gyeongnam to further his knowledge of carpentry and avoid conscription.
However, residing there did not align with the path of a craftsman seeking to expand artistic vision and craftsmanship. Instead, it was a job that forced him into a repetitive, manneristic routine, where he primarily crafted standardized military desks. The conditions were far from ideal for an artisan aiming to create sophisticated yet elegantly designed Joseon wooden furniture.
Park's life in that environment resembled a prison, and it was only with the 'August 15 Liberation' that he found true freedom. However, the Korean War and the subsequent wave of industrialization that followed the armistice did not truly liberate him. In those challenging times, when meeting basic survival needs was a struggle, there was little demand for expensive wooden furniture. The very foundation of traditional craftsmanship was in jeopardy.
Amidst this trend, government policies were established to preserve and pass on traditional crafts, sparking increased interest in these time-honored skills. In 1969, his work was featured at the National Traditional Crafts Exhibition, and he was honored with the designation of cultural asset and holder of the title "Somokjang," recognizing his pivotal role in preserving and advancing this cultural heritage.
The piece of work in which Mr. Chun showcased his craftsmanship was a three-story cabinet accompanied by a four-story table situated on the left-hand side of Mungap. His specialty lies in adorning these pieces with lightning bolt patterns on boards crafted from materials such as ink, ginkgo, and lacquer, applied delicately and with precision.
In this tradition of wooden furniture craftsmanship in Tongyeong, his disciple Kim Geum-cheol began his learning journey. Kim Geum-cheol was recognized as a training scholarship student in 1977 and later achieved the title of training assistant at Somokjang in 1982. At present, Seol Seok-cheol and Park Myung-bae hold the title of owners, while Kim Geum-cheol, Lee Jeong-gon (the late Song Chu-man), and Hwa-shin (the late Kang Dae-gyu) have been designated as training assistants.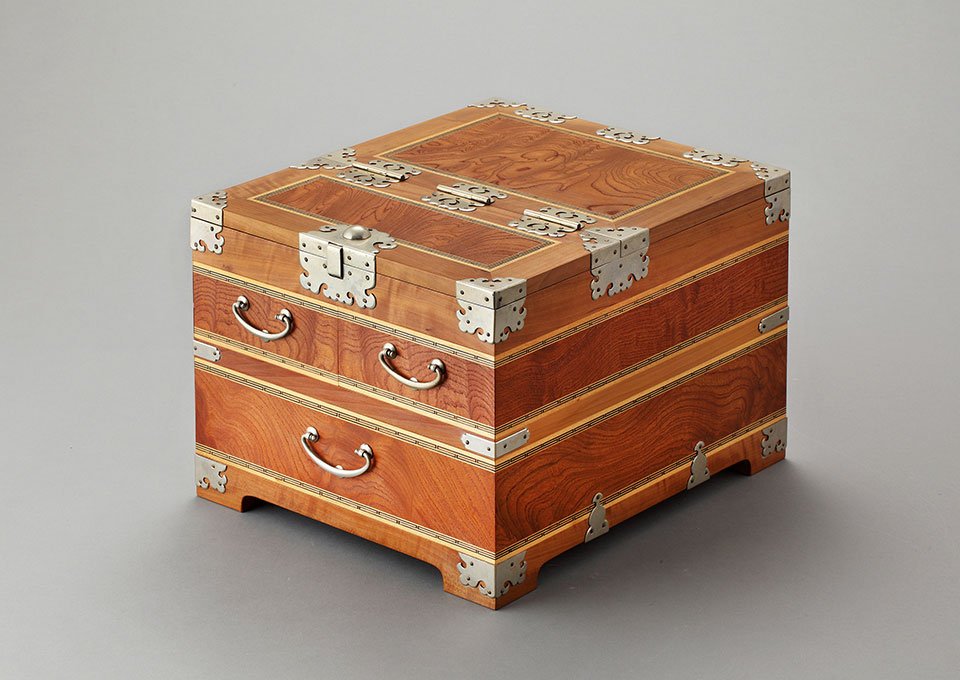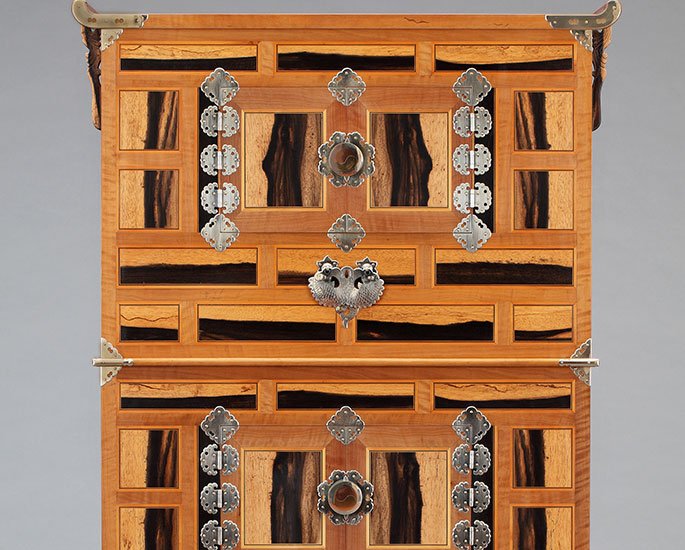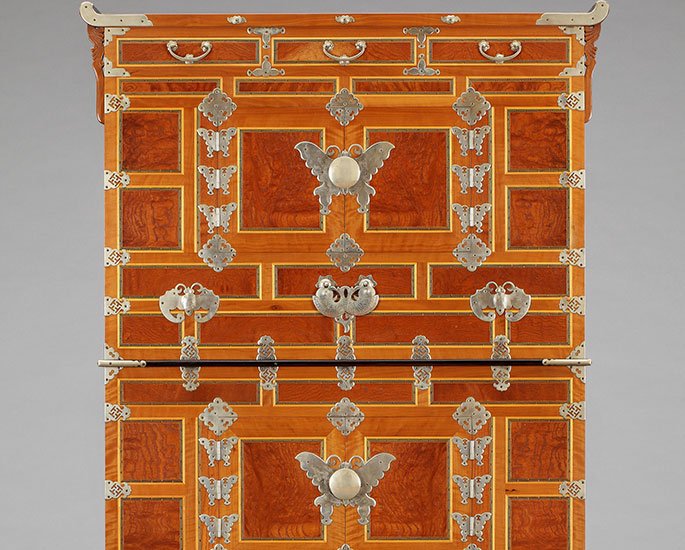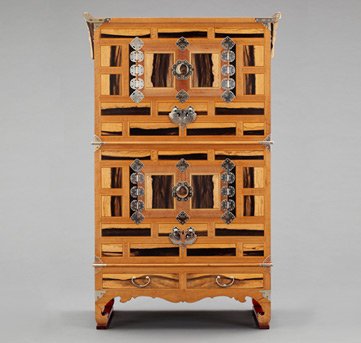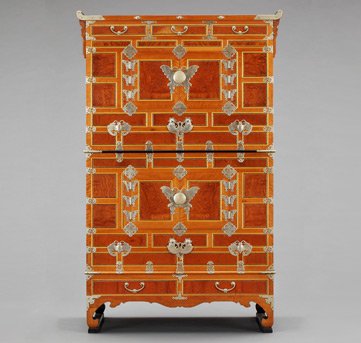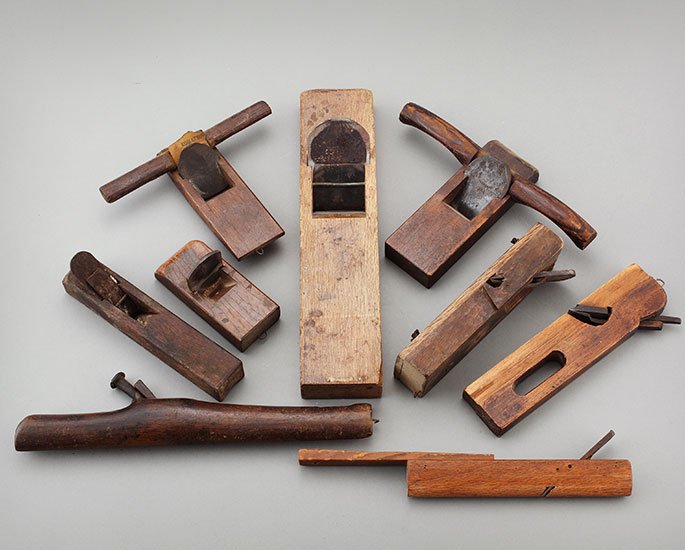 crafting tools
A joiner must have a keen eye for furniture and should also know how to select and utilize production tools that are comfortable for their hands. Some craftsmen even create their own custom tools to ensure a perfect fit for their hands. Joiners require a wide range of crafting tools, including a chisel for carving and trimming, a mallet for striking the chisel, an awl for drilling, a gouge for carving, a plane for smoothing, a bending iron for shaping wood with heat, and a winding mechanism for the three-string instrument, among others.
Written by Chiheon Lee / Korea Cultural Heritage Foundation
Photo Heongang Seo (photographer specializing in cultural properties)
ARIJIAN COLLECTION
Arijian is a contemporary mother-of-pearl art studio that draws inspiration from traditional Korean crafts. The history of Arijian began in 1978 when Chulhyun Yoo opened a studio dedicated to crafting cabinets adorned with mother-of-pearl inlay, as well as tables and various lifestyle goods.
Expanding upon this rich tradition, Jian Yoo, an artist, and Chulhyun Yoo's daughter, who had previously ventured into diverse creative fields such as interior design and graphics, established "Arijian" – a Mother-of-Pearl Art Studio bearing her name. The name "Arijian" itself carries a significant meaning, signifying "to engrave beautiful light." It combines "ari," which means "beautiful" in Korean, with "jian," which signifies "engrave light." This name encapsulates Arijian's dedication to carving the luminous beauty of mother of pearl into the realm of contemporary design and spatial aesthetics.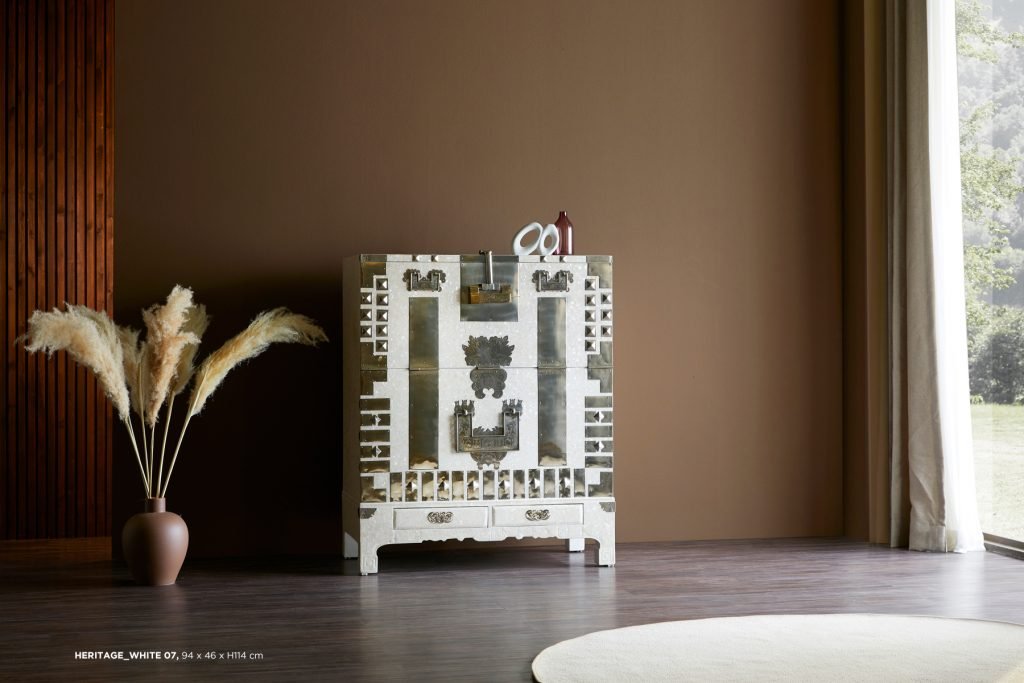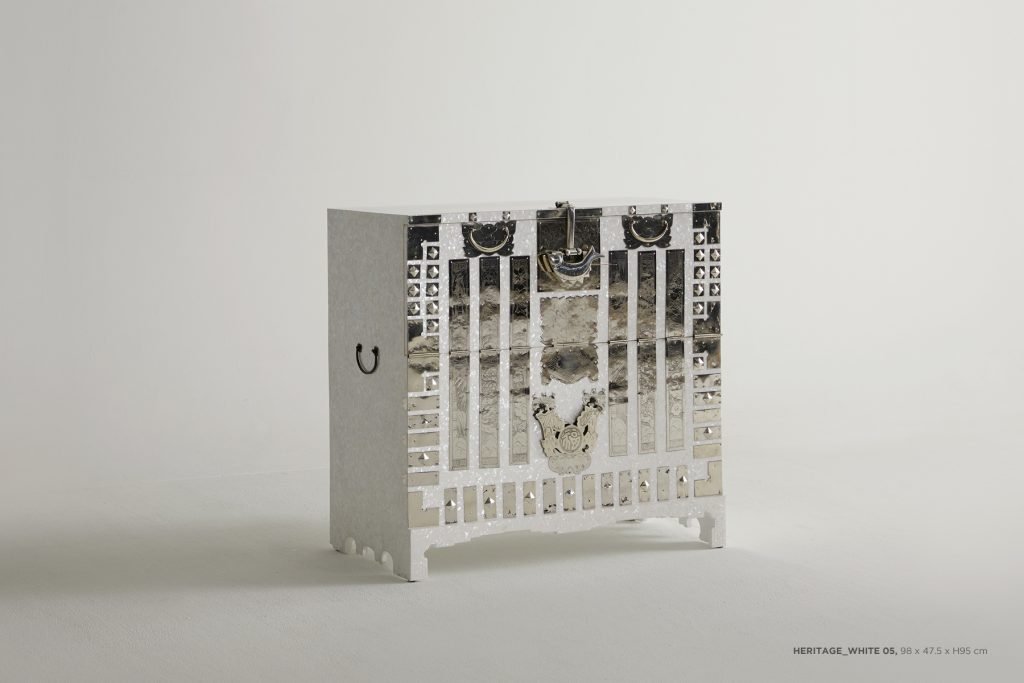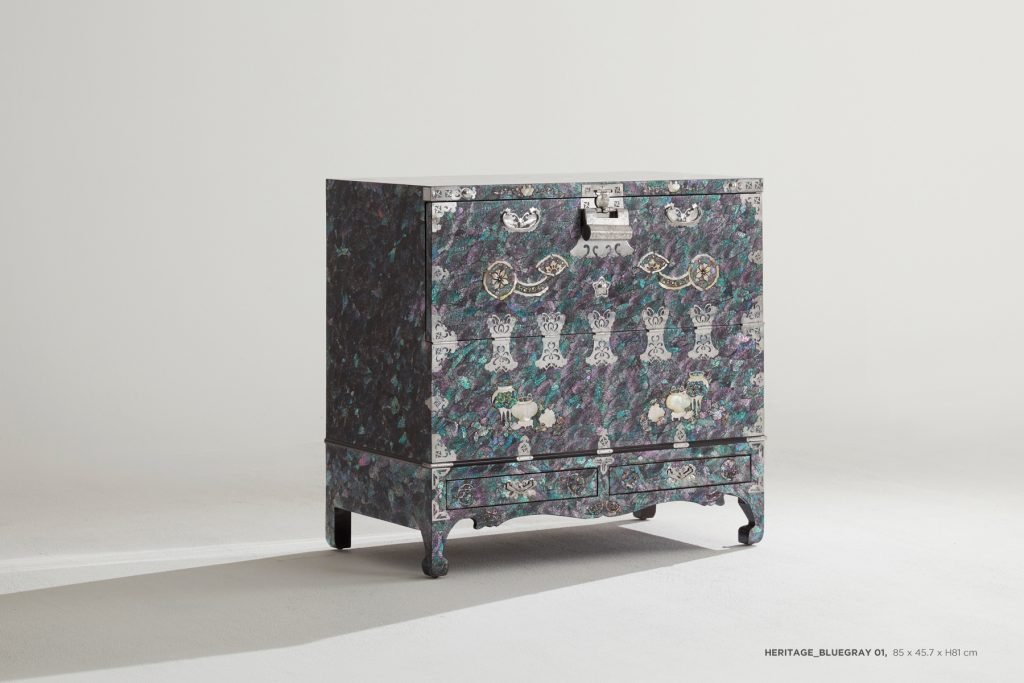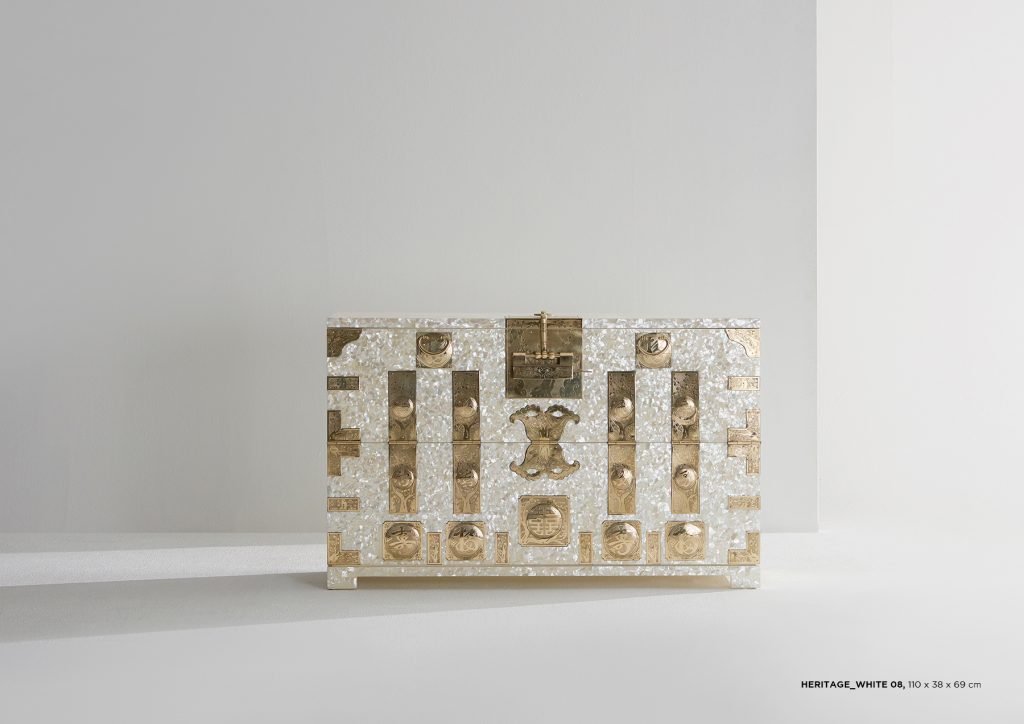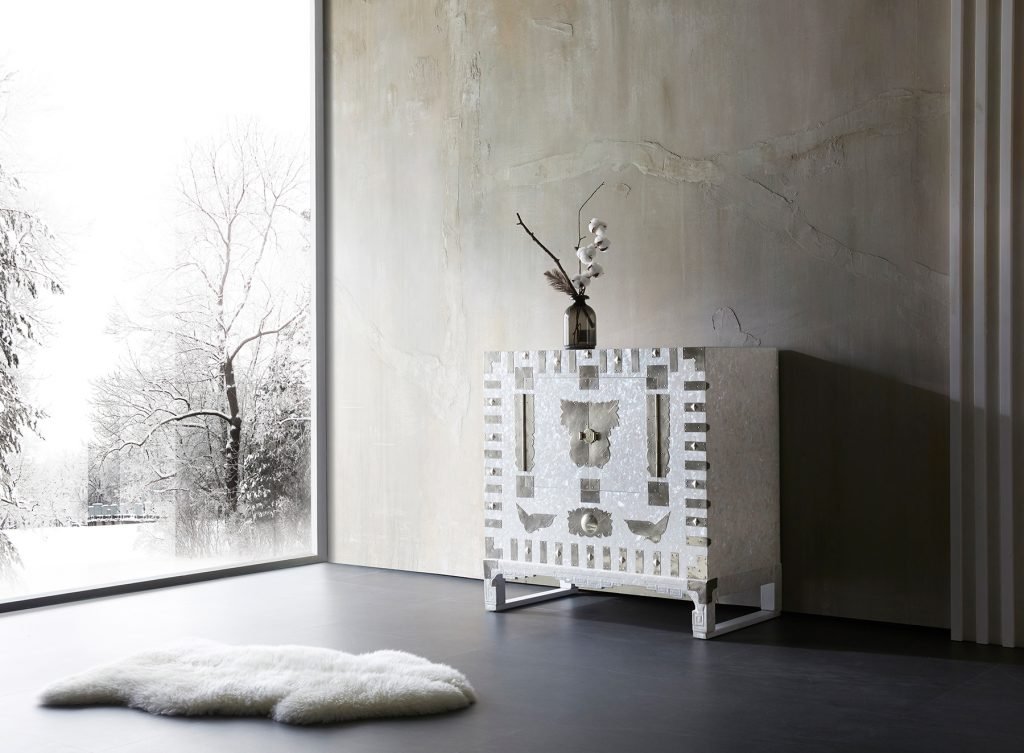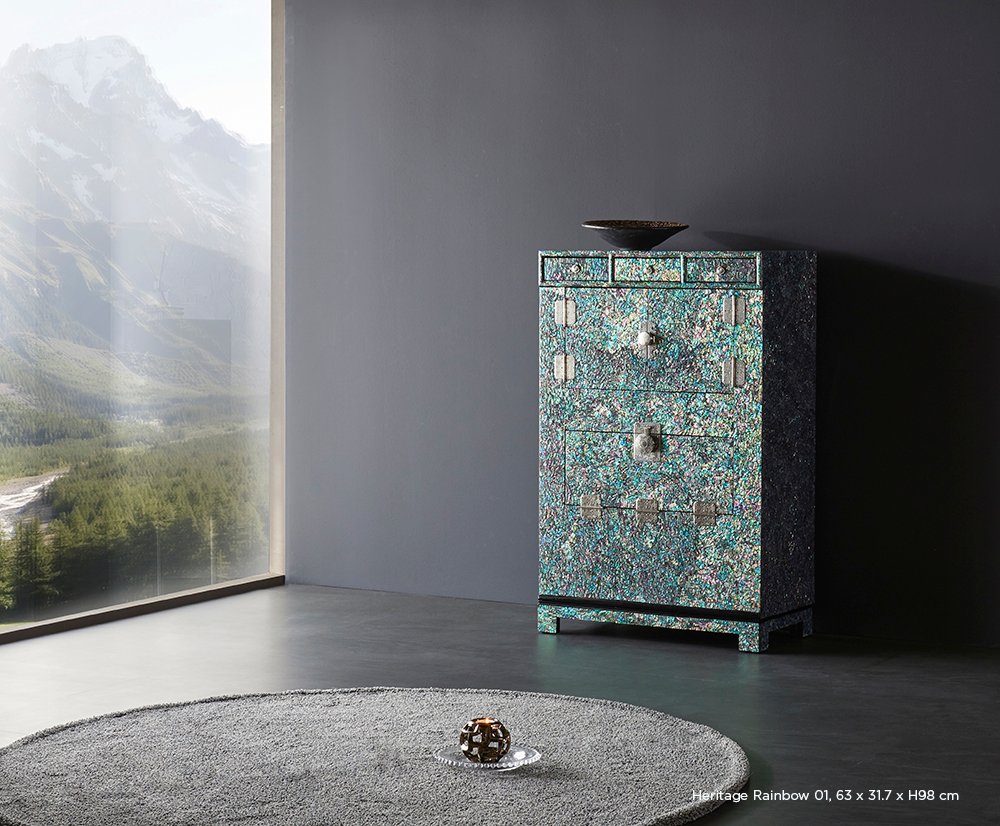 CHOSUN BANDAJI BY JUNG GU-HO
Guho Jung was not only a furniture collector but also a designer of contemporary furniture. His art collection is remarkable and includes "Pyongyang" style bandajis crafted from plexiglass and adorned with white brass fittings, reminiscent of the traditional pieces from this Northern province. His collection is truly unique and noteworthy.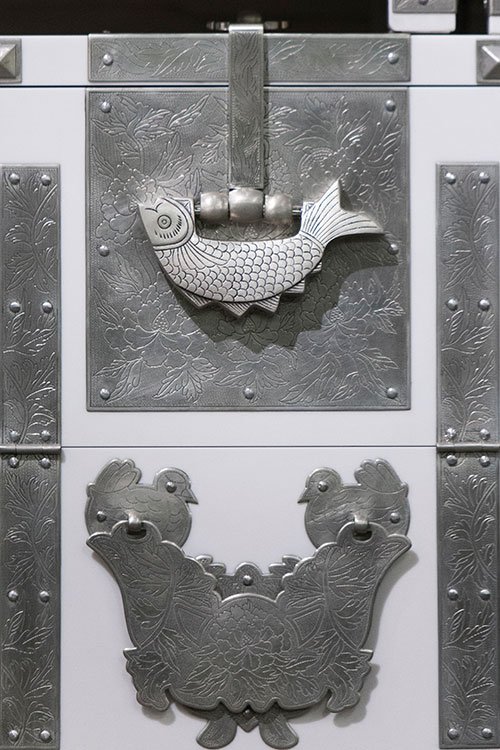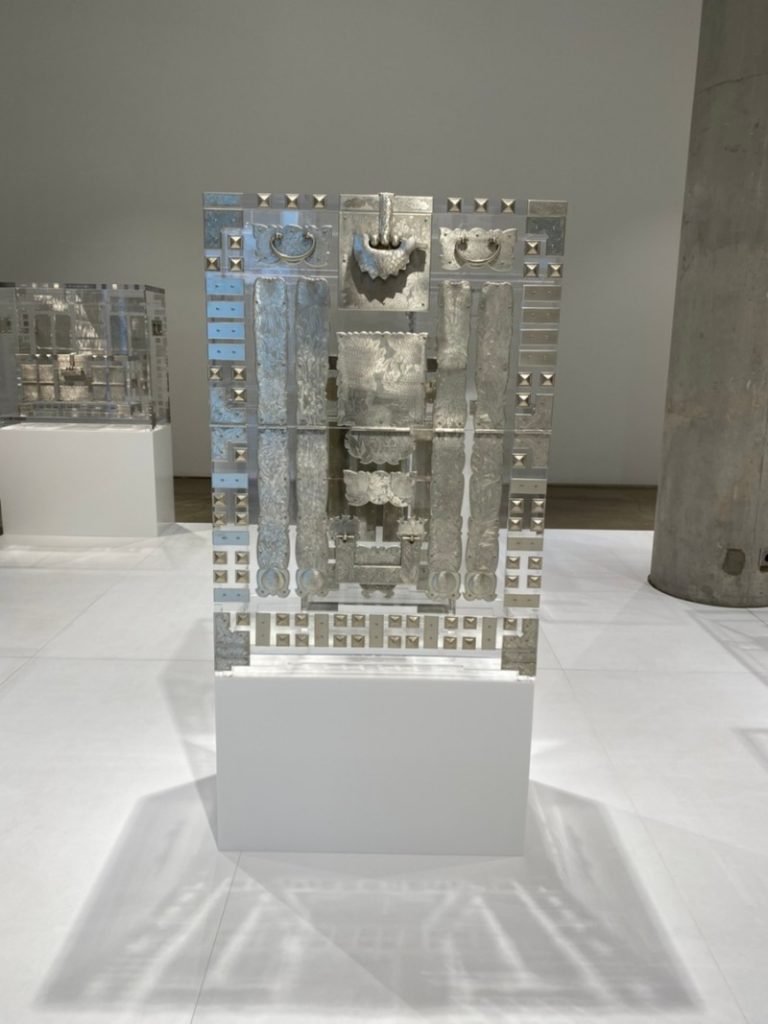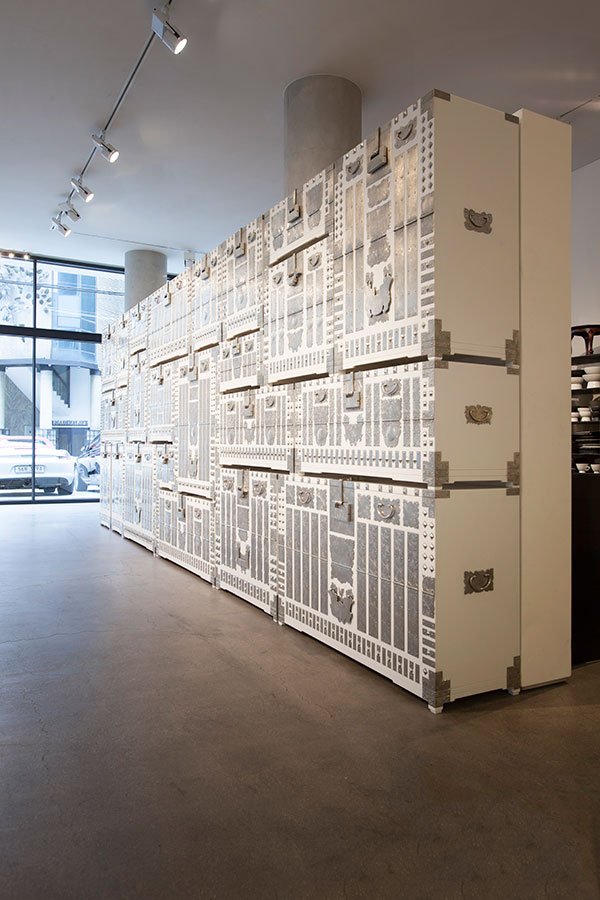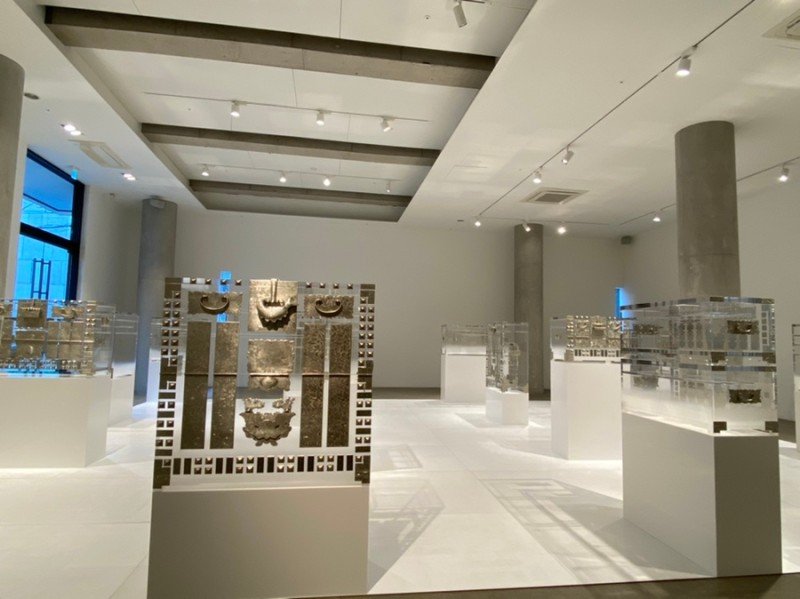 JEONG JAE-HOON. Master carpenter of Chosun Wooden Furniture.