Featured photo: The portrait of Yi Chae depicts the renowned scholar of the late Joseon period, clad in a pointed dongpagwan hat and a scholar's robe, or "simui" (a white hemp robe with black trim). In this half-body portrayal, Yi Chae gazes directly from the canvas while maintaining impeccable posture. It is part of the collection at the National Museum of Korea in Seoul.
Elegant, precise, and understated, these adjectives aptly characterize the furnishings of classical scholars from the Joseon Dynasty.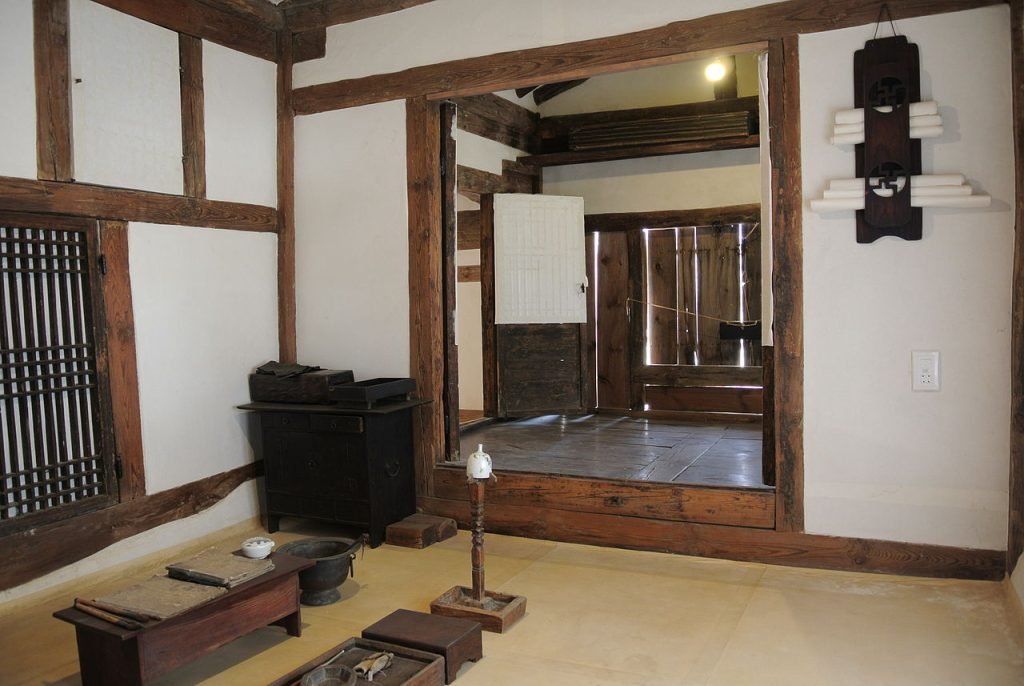 Scholar's chests in Korea are also referred to as "Sarangbang" furniture. The term "Sarangbang" (사랑방, 舍廊房) denotes a room found in a traditional Korean house "Hanok". "Sarangbang" served as a men's room, primarily used for studying, writing poetry, and leisure activities.
This type of furniture includes open stationery chests, book chests, writing tables, bookshelves, and paper-filing cabinets.
STATIONERY CHESTS.
Those small pieces of furniture are called "Mungap": 문갑 in Korean.
They were used by both men and women to store documents or stationery and were placed in the main room of the house. Documents or stationery were stored inside, and they also served as display stands for brush holders, stones, flower pots, and pottery, which were placed on top.
These chests were typically low and positioned in the space below the window.
The types of "Mungap" are categorized based on their shape. There are single-door "Mungap" (單文匣) and double-door "Mungap" (雙文匣). The "Chaekmungap" (冊文匣) can be used as a small desk. The "Nanmungap" (亂文匣) features multiple open compartments, and the "Dangmungap" (唐文匣) is richly decorated with various floral motifs (花柳文).
Historically, "Mungap" chests were relatively small and tall. However, starting in the late 18th century, their height was reduced to accommodate the practice of living on the floor, and double-door "Mungap" became popular. Typically, a pair of these chests was placed along the room's wall.
The average height of a "Mungap" chest is approximately 30 cm.
Regarding the wood species, the materials primarily consisted of high-quality timber with a dark stain. Paulownia was a commonly used wood due to its repellent properties and lightweight nature. Persimmon wood, with its two distinct colors (black and light brown), was a popular choice for the front panels. The small doors and drawers were often crafted with a veneer to create a mirror-like effect. Other wood species like red pine, elm, ash, pear, and zelkova were also selected for these pieces.
Some of these chests were adorned with coral, jade, mother-of-pearl, and lacquer.
The National Folk Museum of Korea in Seoul boasts a rich collection of such small chests, and you can find some of them featured in this post.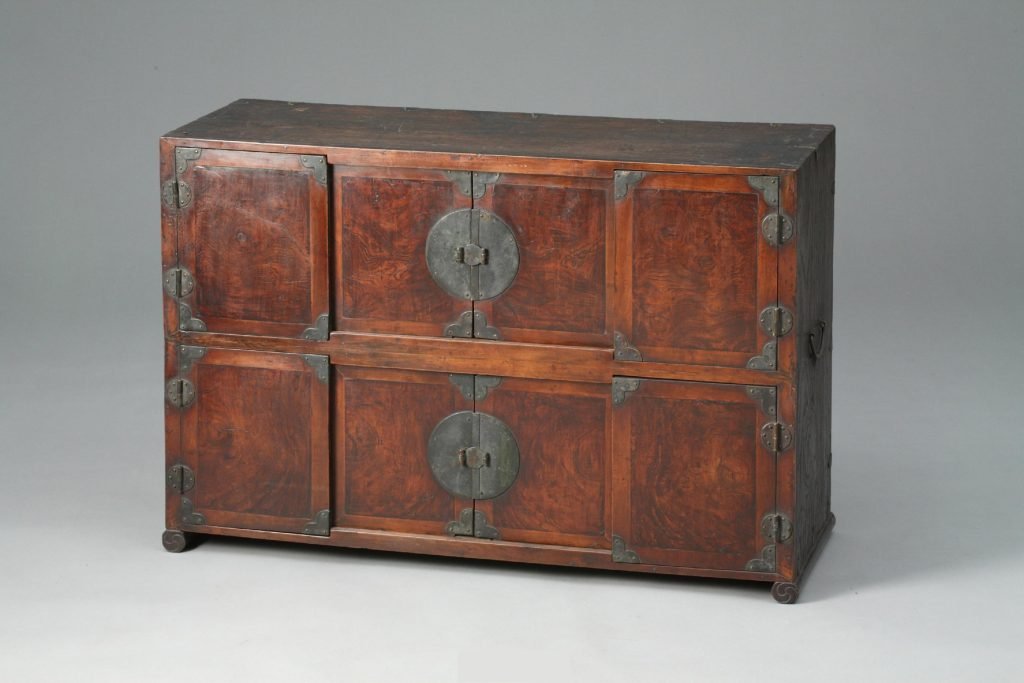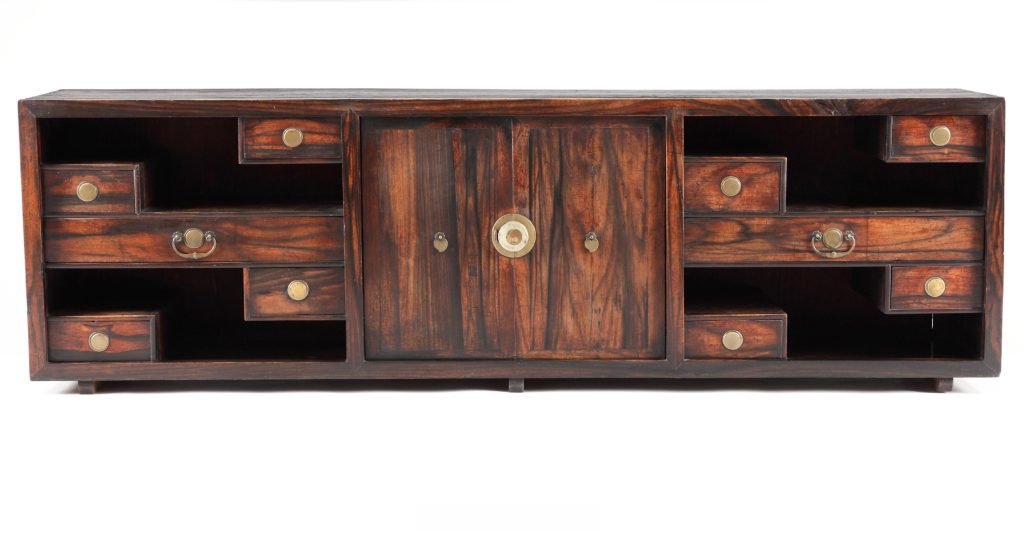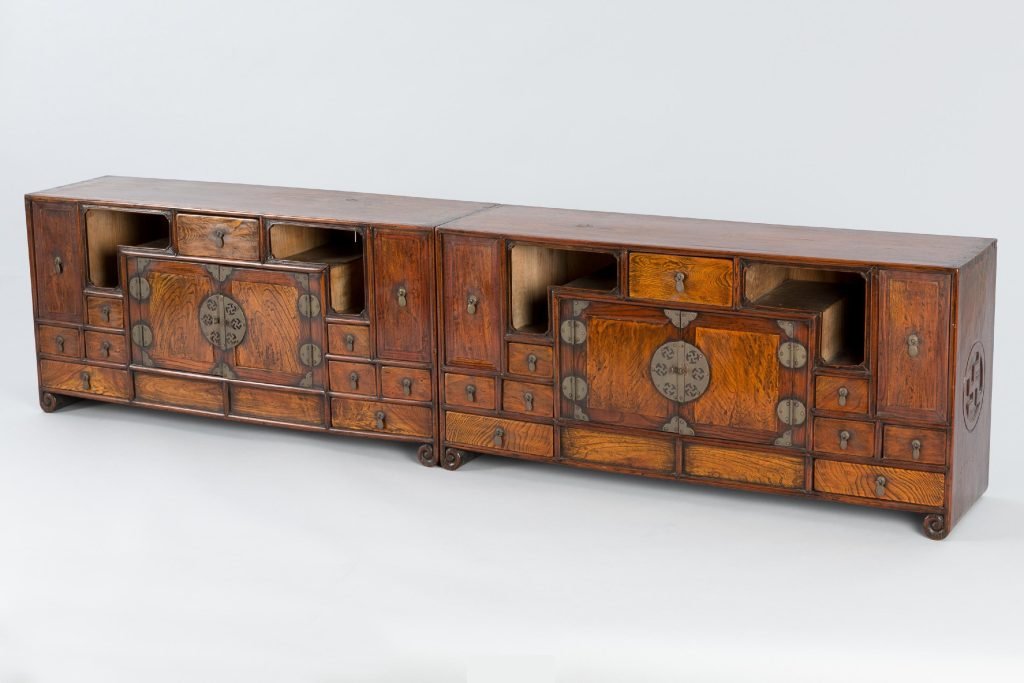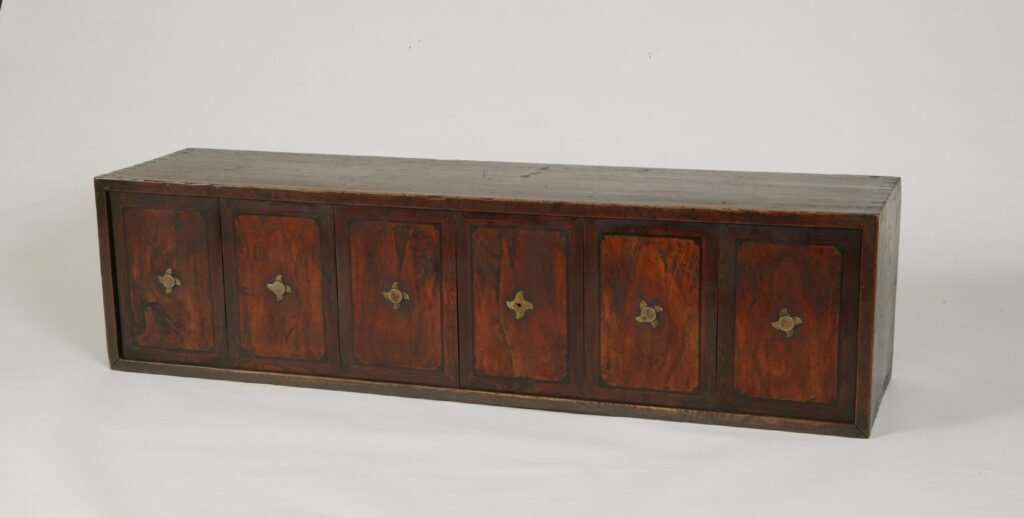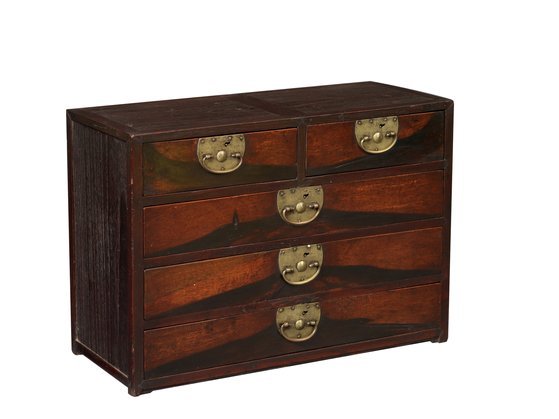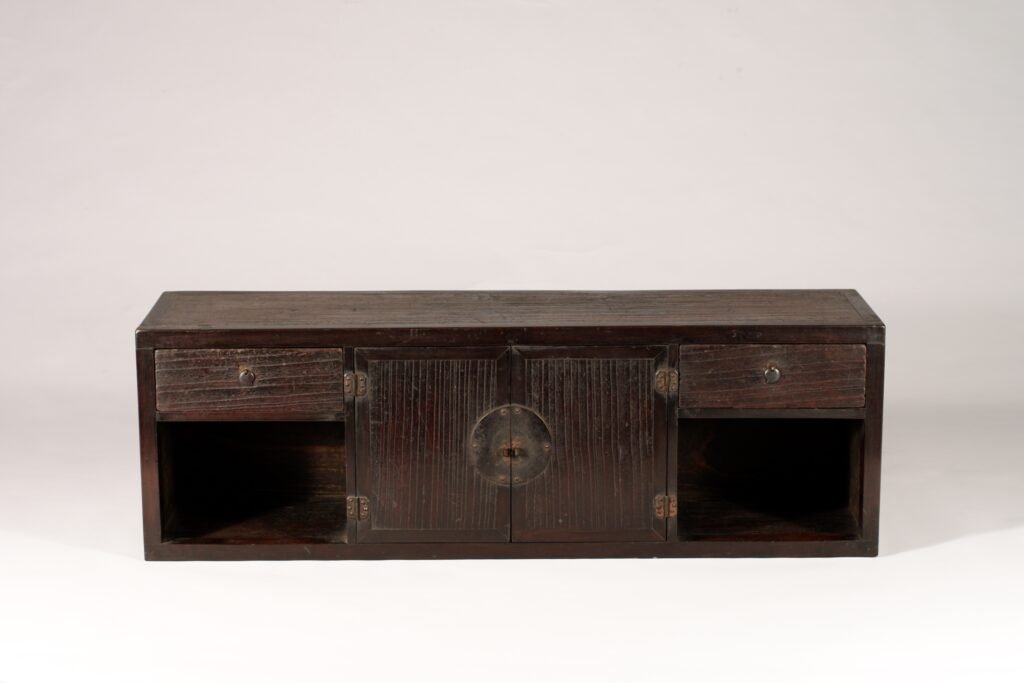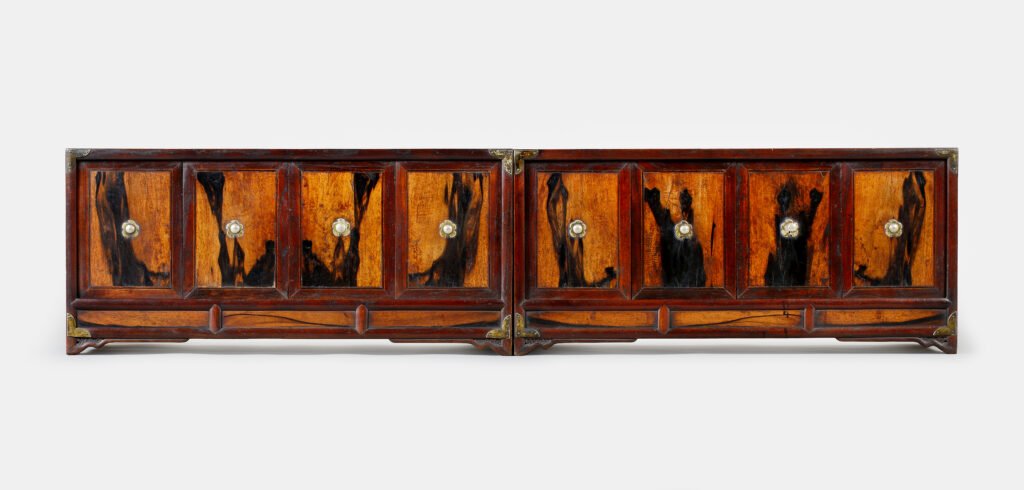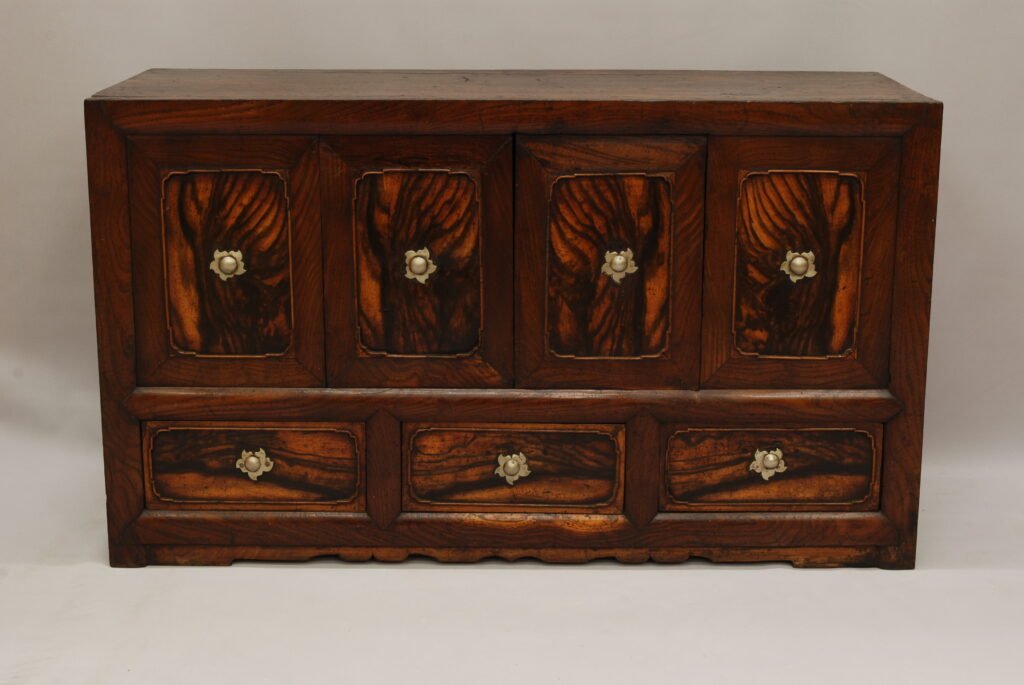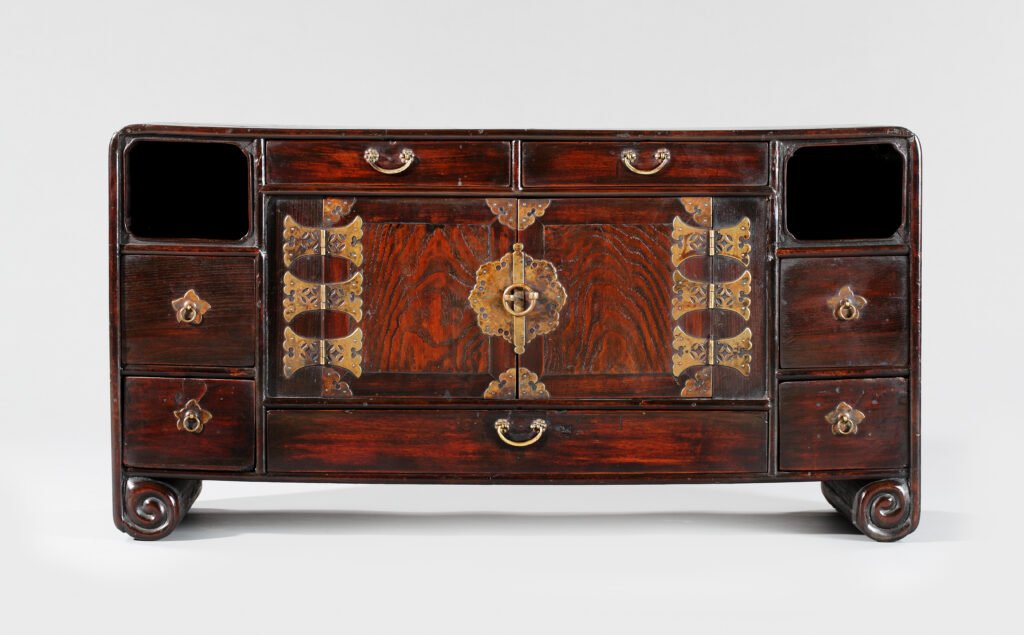 THE INKSTONE TABLE NEXT TO THE DESK.
Scholars would place the inkstone table next to a small desk in order to store various items, including inkstones, ink sticks, and water droppers.
The inkstone table is called "Yeonsang" 연상 硯床 in korean.
"Yeonsang" is a small rectangular box on legs used to collect and organize various small items, such as inkstones, ink, paper, and other documents. This box often features one or several drawers on top and a pedestal underneath. Inkstones and ink are typically stored on the upper part, and the lid is closed when not in use. There is a drawer at the bottom for storing various documents or letters. The stand below is open on all sides and slightly raised from the floor, often with a plank across it to support books, papers, and other items.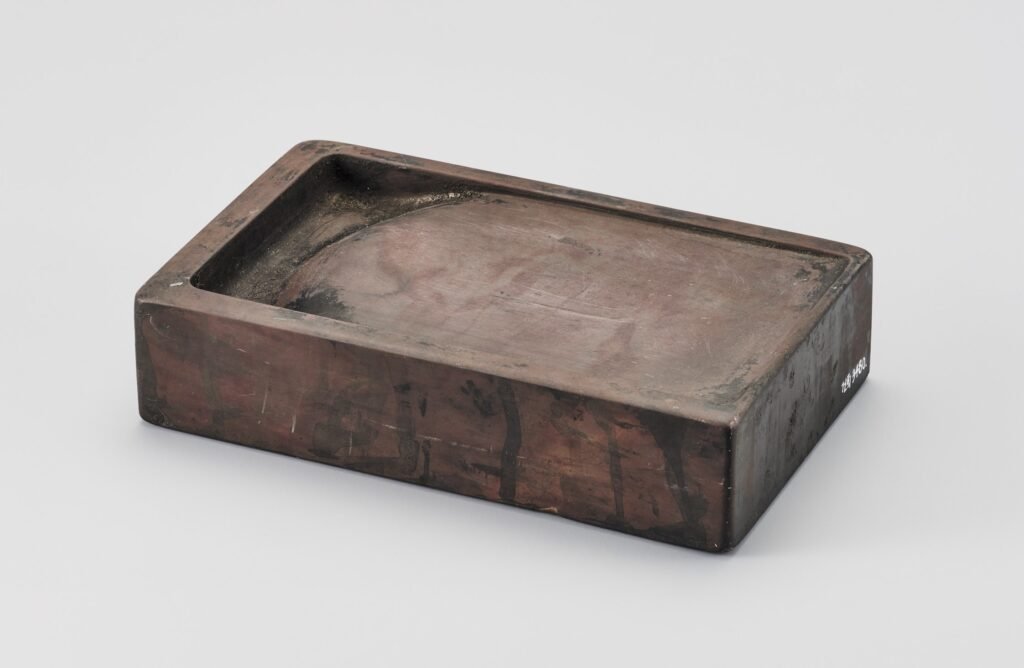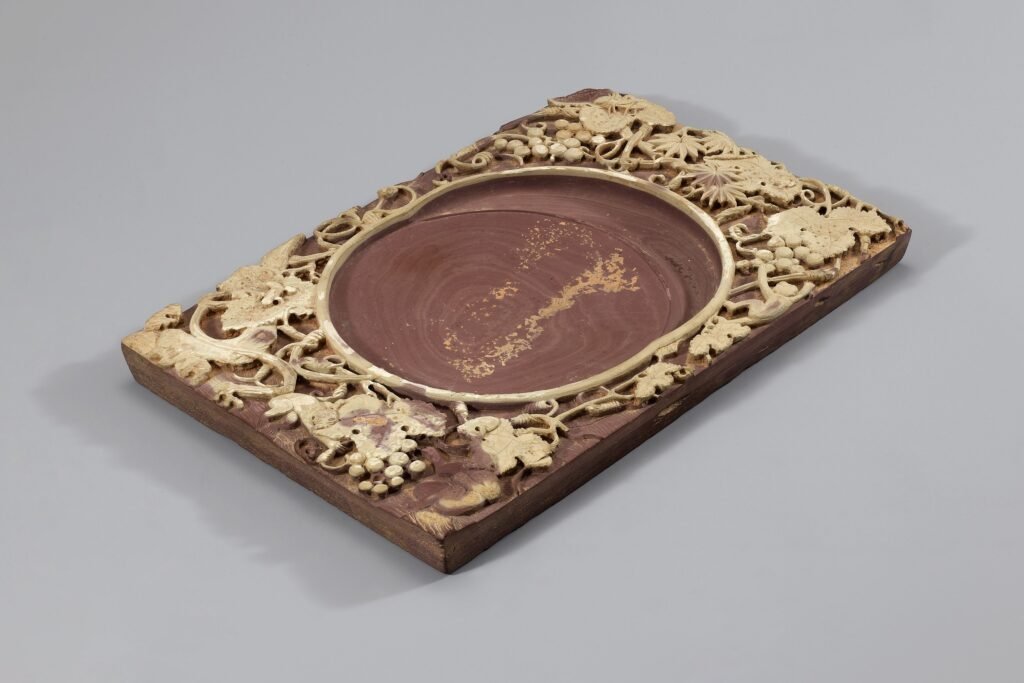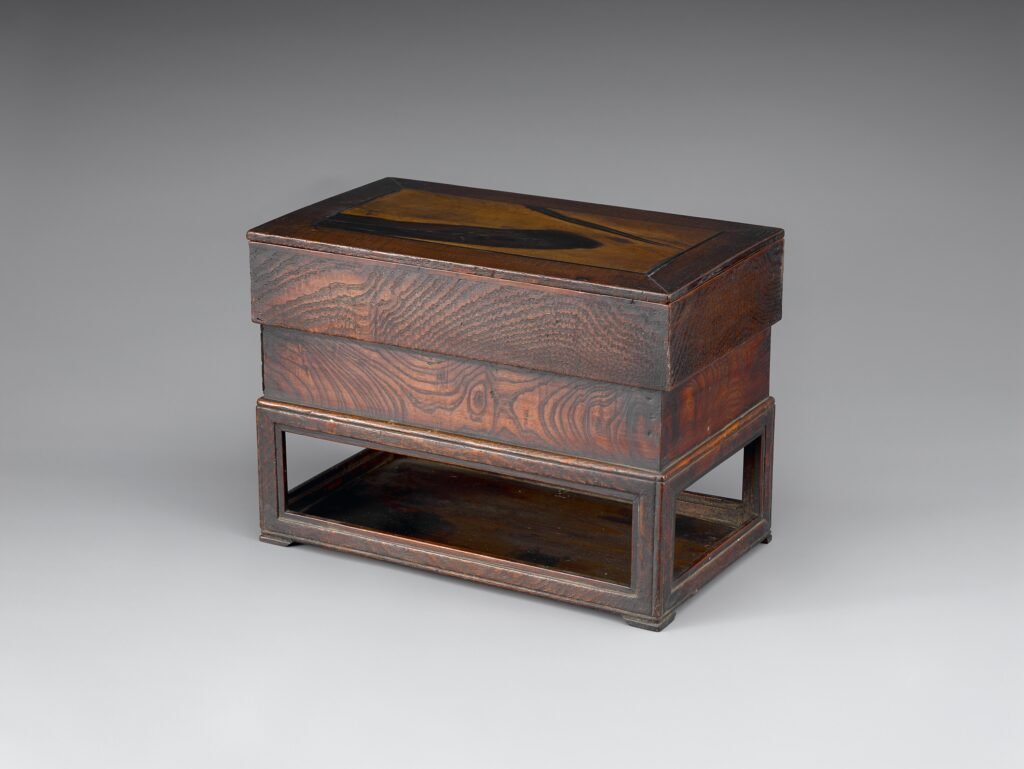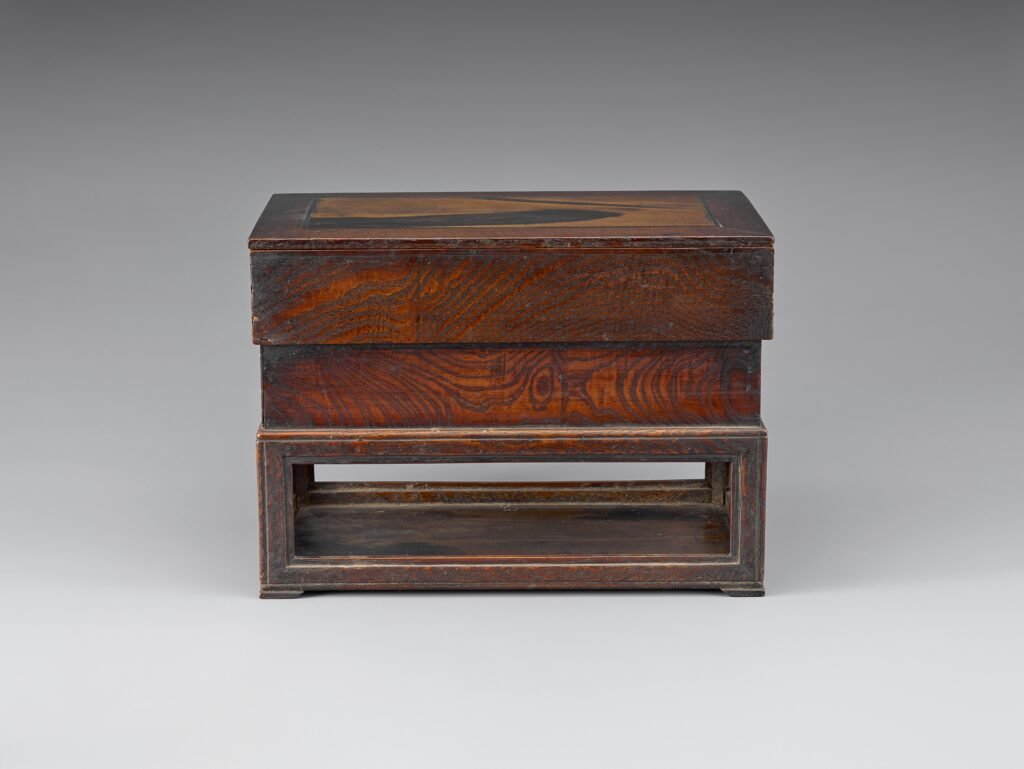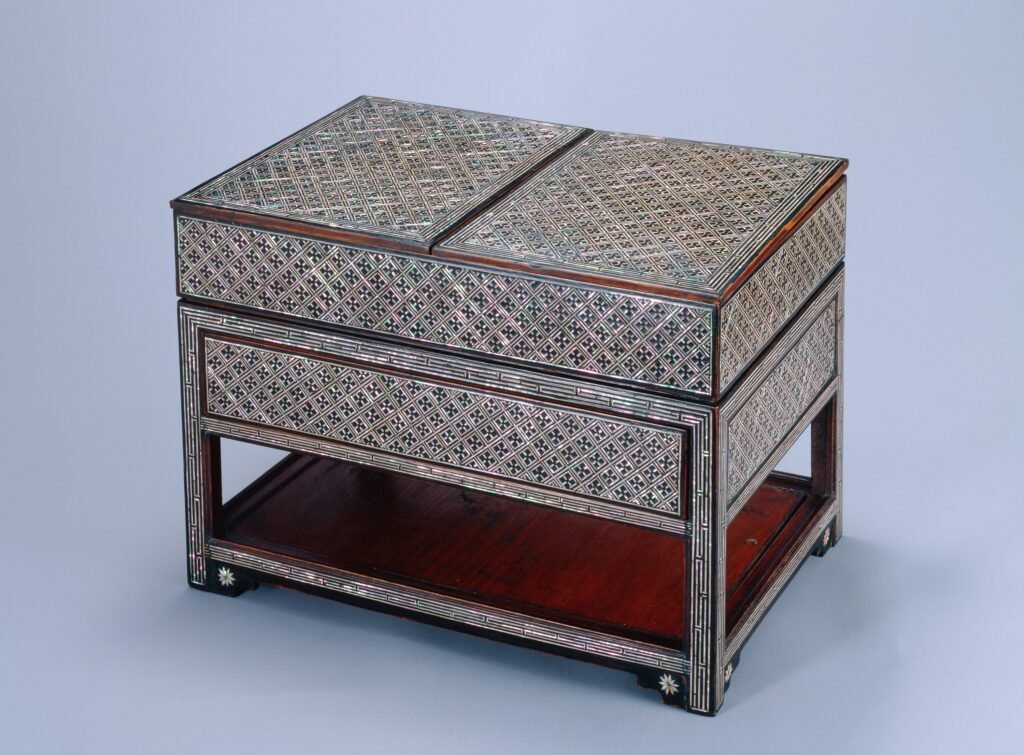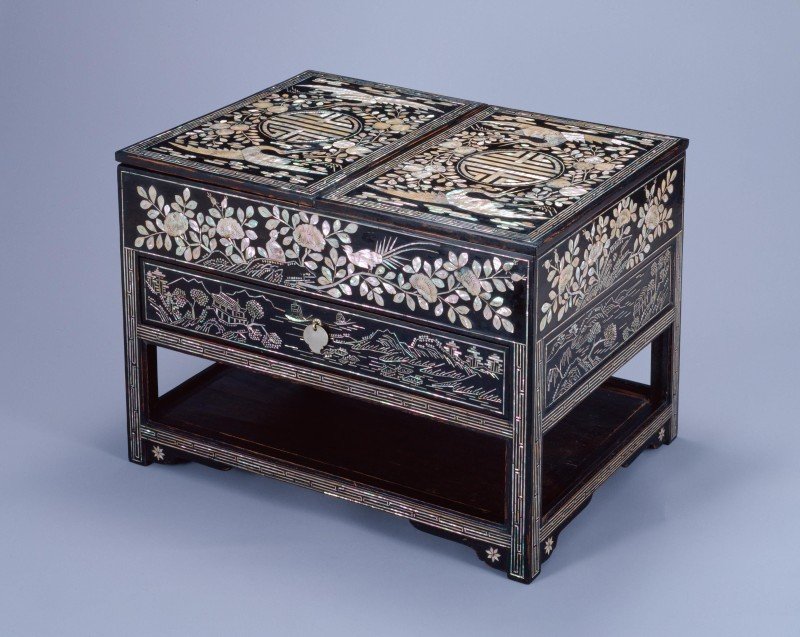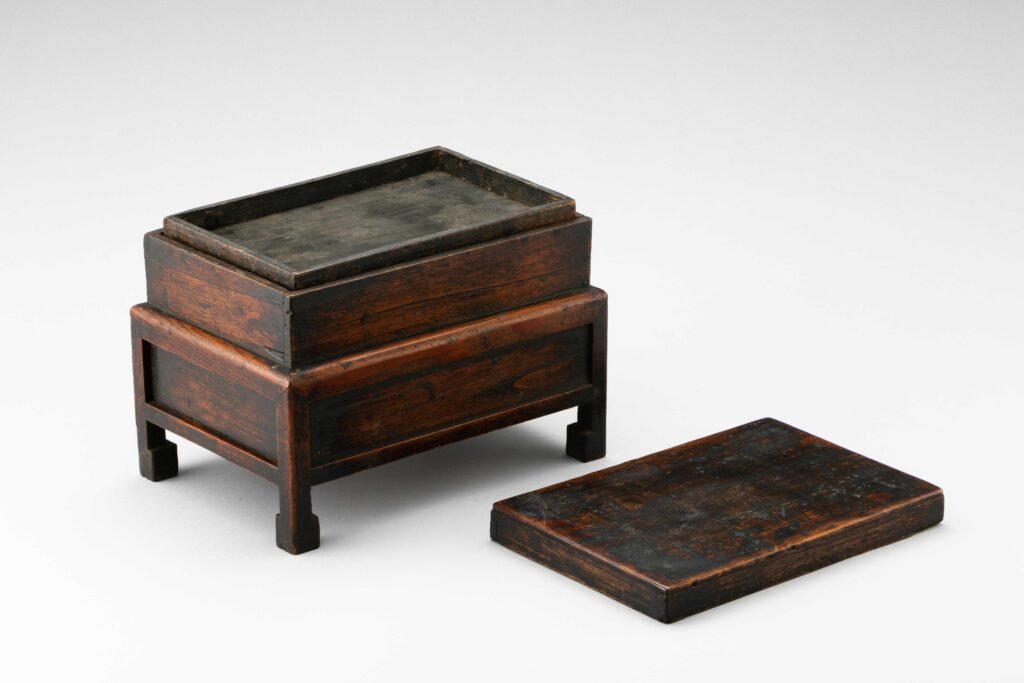 The small desk is called "Seoan" 서안 in korean.
"Seoan (書案)" refers to a low desk used as a piece of furniture for reading or writing support. It was typically situated in the central area of the "Sarangbang", a space predominantly utilized by men. It is also known as Seosang, Seotak, and Gwean.
The "Seoan" is crafted in a straightforward manner, devoid of elaborate decorations, reflecting the refined and scholarly taste of individuals during the Joseon Dynasty.
Typically, a "Seoan" features a flat top surface for placing books, but there are also variations with both ends rolled up, referred to as "Gyeongsang" (경상) in Korean. Originally, "Gyeongsang" was used as a table for reading Buddhist scriptures in Buddhist temples during the Goryeo Dynasty. In the Joseon Dynasty, it found common use as a writing table. The reason for the rolled-up ends was to prevent scrolls from slipping off when unfolded.
The history of the "Seoan" is not well-documented, and there is a lack of existing data. However, its design can be estimated from the late Goryeo period, as it is depicted in Buddhist paintings. This piece of furniture is also frequently depicted in genre paintings and portraits from the Joseon Dynasty. Early versions typically feature a flat top surface and simple leg design.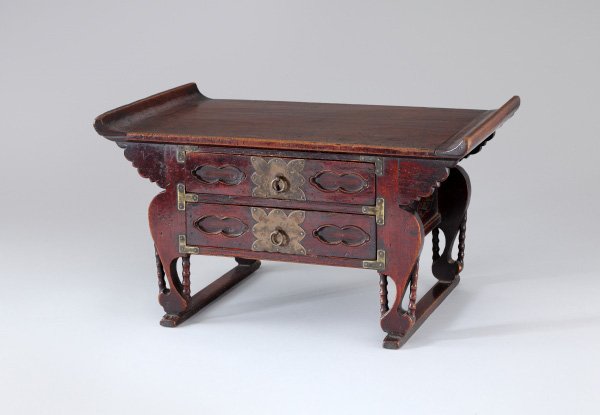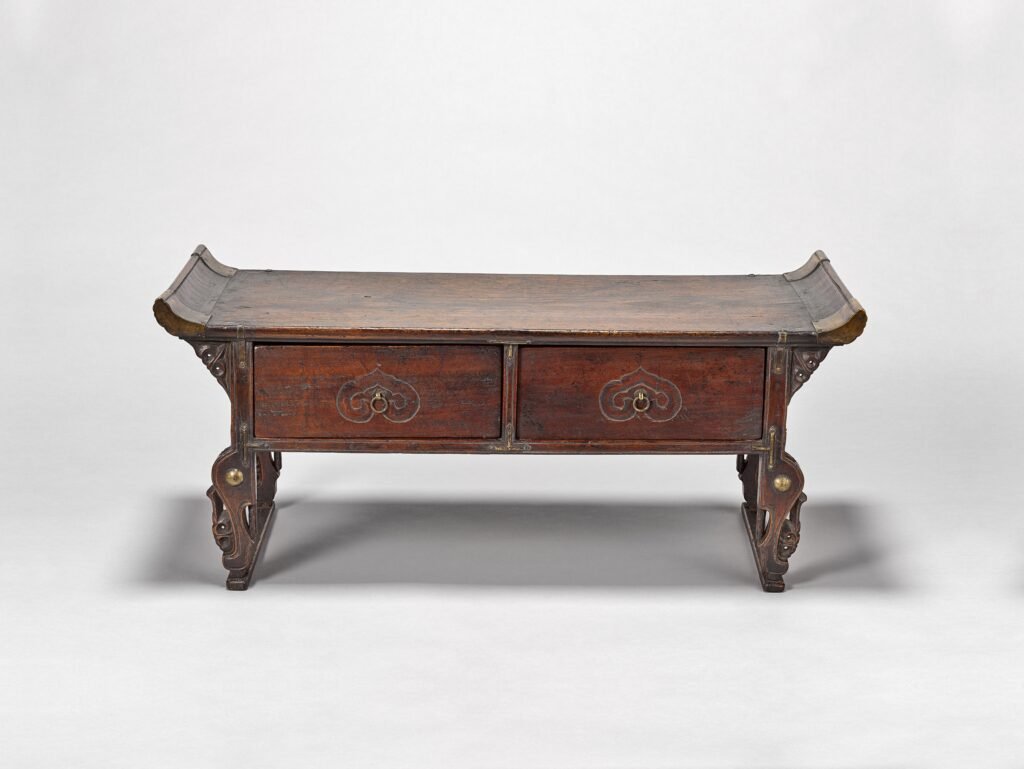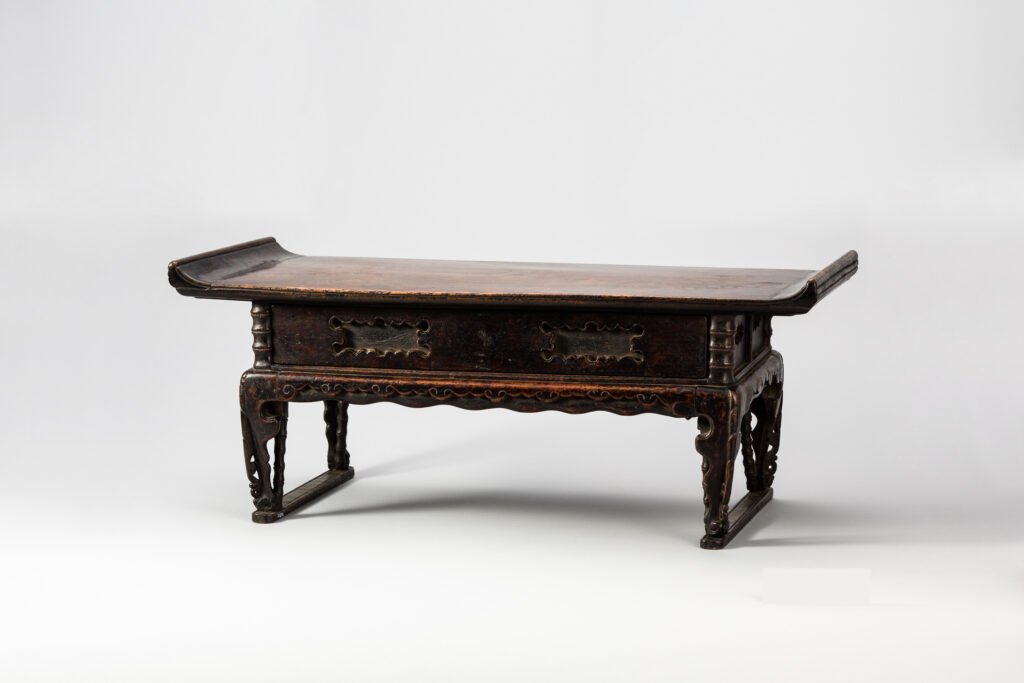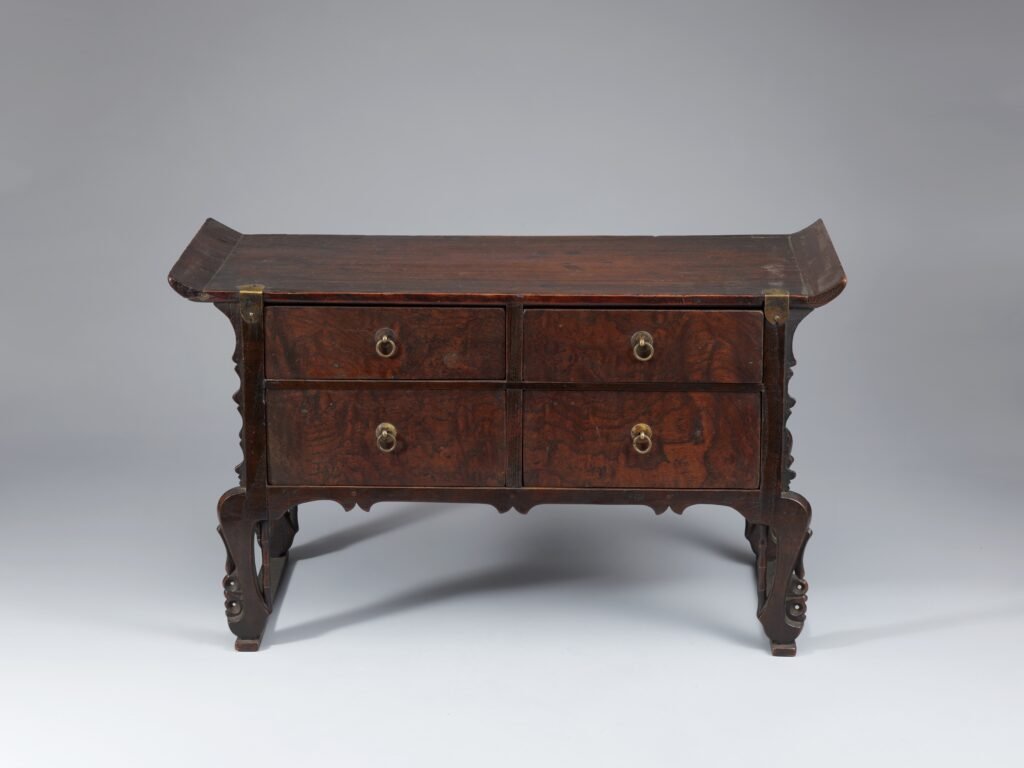 THE DOCUMENT & BOOKCHEST. 책장
Book storage or document chests were crafted for upper-class households, making them relatively scarce and highly prized among collectors of original Korean furniture. These are the largest among scholar's chests.
The earliest pieces of furniture designed for the storage of a larger quantity of books or documents seem to be the bandaji, known as 책반닫이 in Korea, which can be translated as "Book bandaji."
Unlike the basic bandaji used for clothing storage, the Book bandaji typically included an elongated top shelf that extended beyond the furniture's main structure. Moreover, the cabinet often rested on a more intricate base.
In the case of other document chests, the earliest examples, dating back to the 18th century, typically featured one or two-level units with double doors on each level. The top shelf, extending beyond the unit's width, often had raised ends. These chests had finely decorated iron or brass hinges. Additionally, they were supported by cabriole-shaped legs and had a shallower depth compared to other clothing chests, typically measuring around 30 to 35cm on average.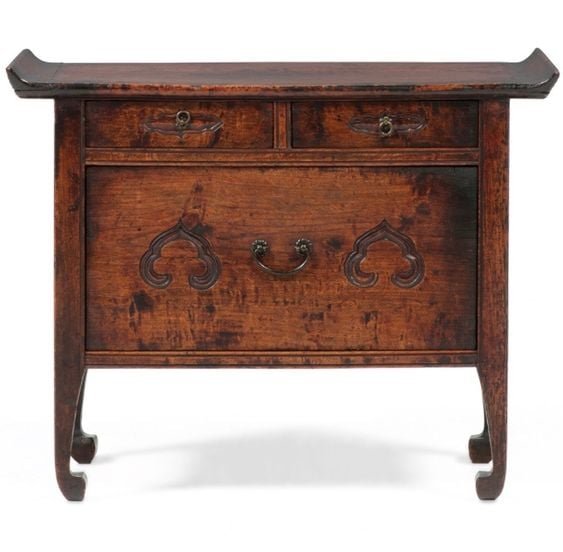 Bookchest
This book chest comprises an upper shelf with an open front, while its sides and back are enclosed.
A middle compartment that includes two drawers, and a lower section with a hinged door, forming a cabinet.
The legs of the book chest are adorned with air holes resembling the wings of a bat. Positioned at the center of the door panels is a circular padlock plate adorned with trigram designs. The door panels and the posts are connected by hinges shaped like swallows.
Culture/Period : Late Joseon dynasty
Materials: Paulownia & pine wood, yellow brass fittings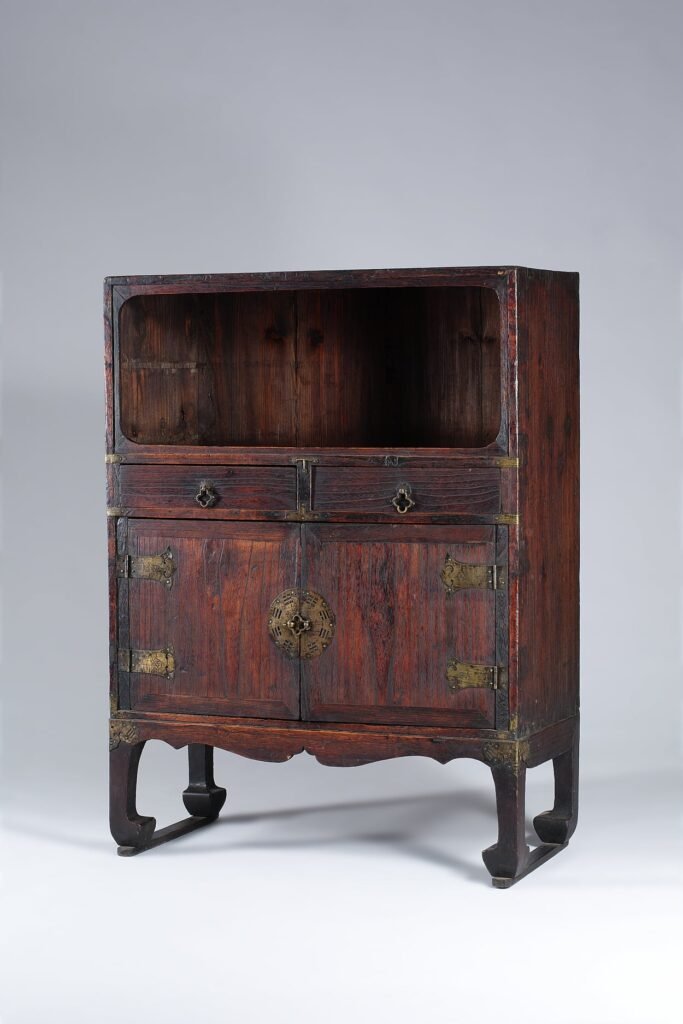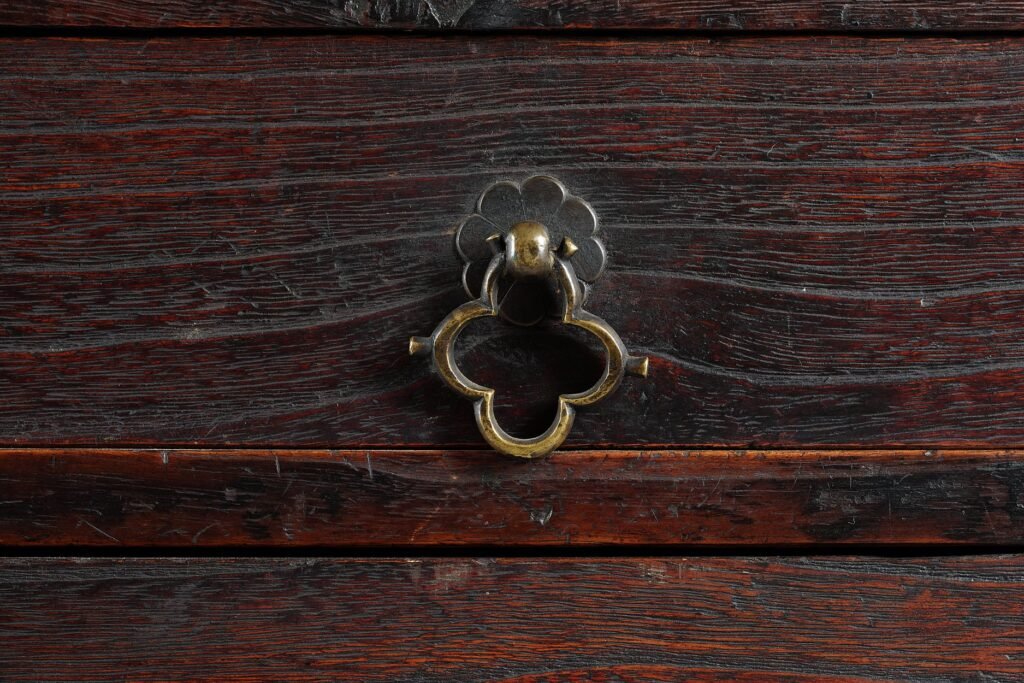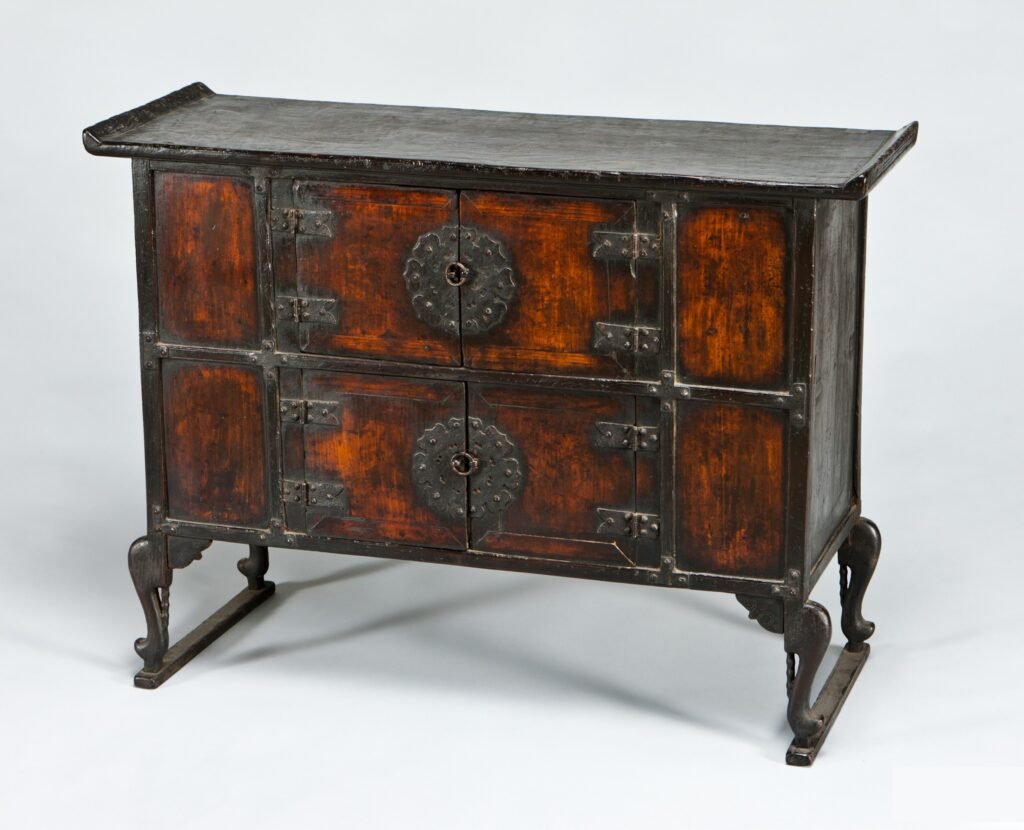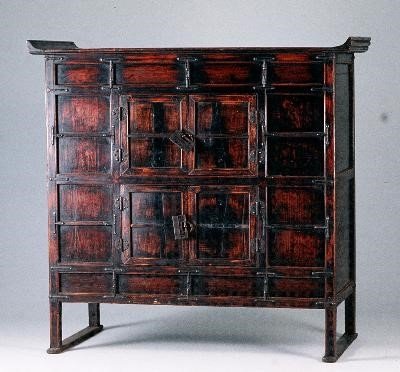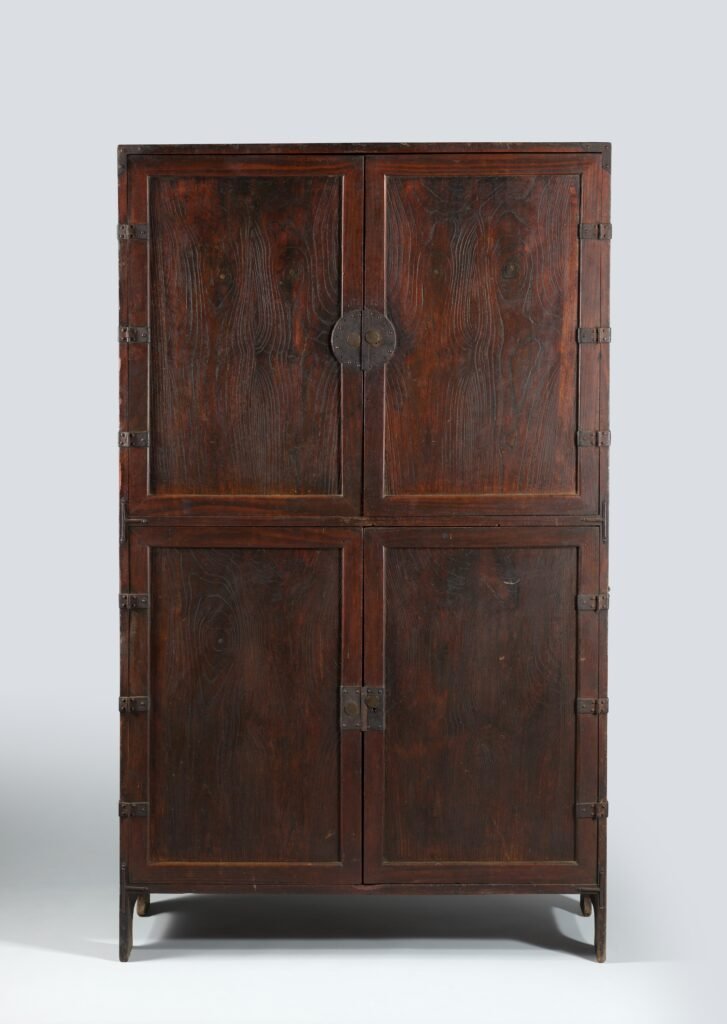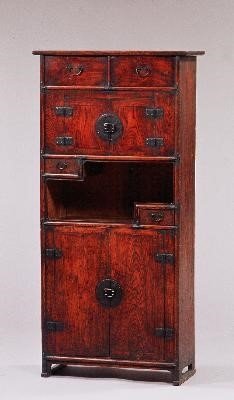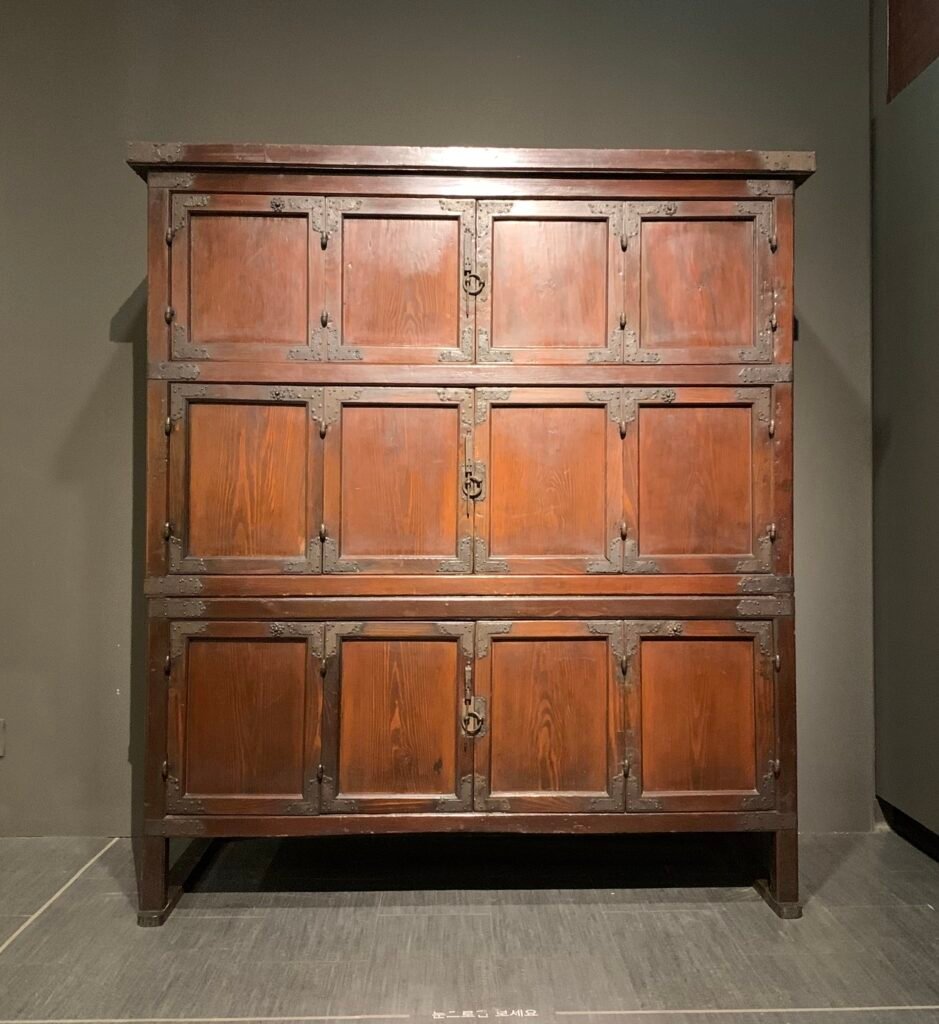 THE BOOKSHELF – 사방탁자
"Open-shelved stands (T'akja) were normally placed next to one or a pair of Mungap and were for displaying pottery and stacking books or manuscripts. They can be of two to five levels, with the bottom level usually enclosed and having double doors.
There seems to be no rule about this, however: the enclosed levels vary rarely, all levels are enclosed. The doors for women's t'akja are most often of woods with decorative grain such as persimmon, maple, cherry and zelkova. Men's t'akja are more likely to have a bottom doors of subdued wood grain such as paulownia. T'akja are usually made of three different woods – decorative panels for the doors, a hardwood for the frame (elm) and paulownia for the shelves and sides. The back of an enclosed level might be of still another wood, most probably pine. Metal fittings are of brass or iron." Edward Reynolds Wright & Man sill Pai KOREAN FURNITURE. Elegance & Tradition.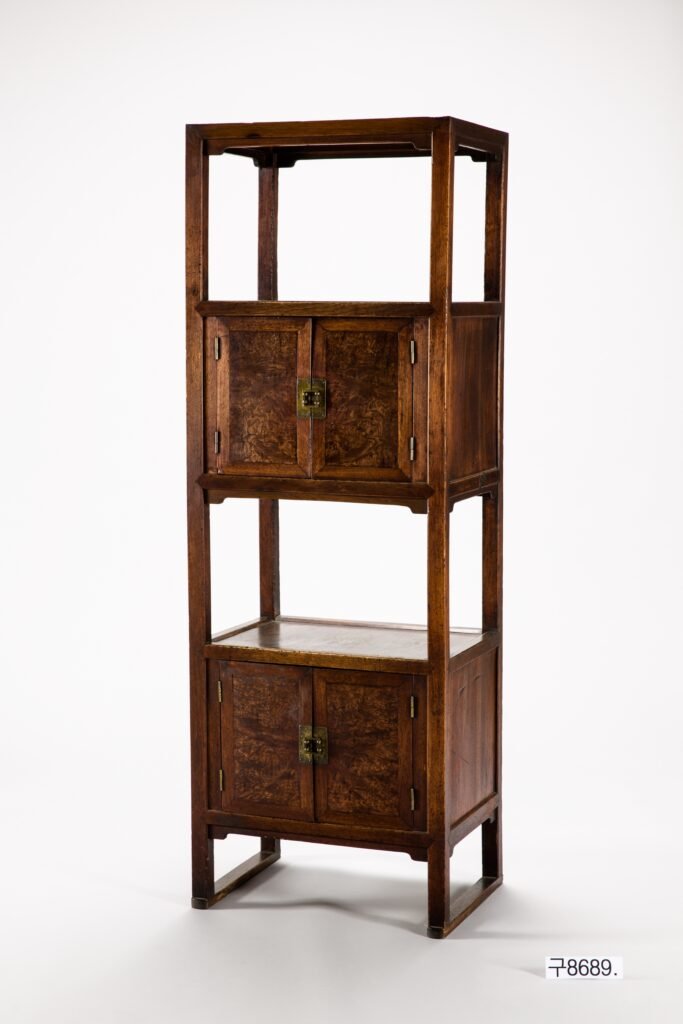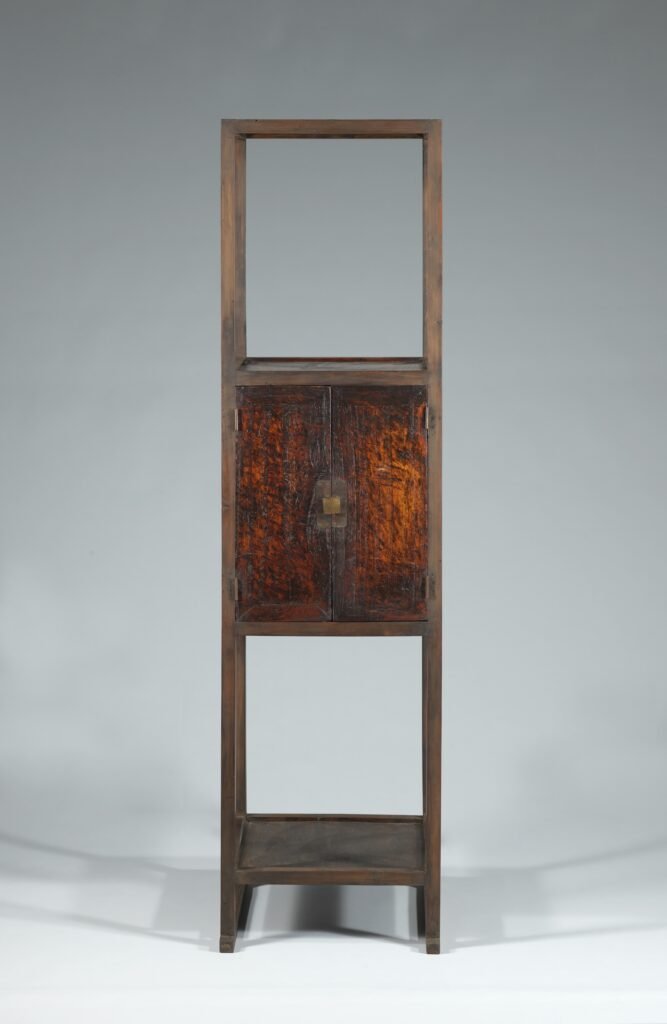 ACCESSORIES