This type of furniture is commonly found in Pyongyang, the current capital city of North Korea. Pyongyang has been a center of economic and cultural influence since the Goryeo dynasty (918–1392). The climate in the area is characterized by very cold winters and hot, dry summers.
They are quite easy to recognize due to their dark stained front panels, which are always adorned with large rectangular brass ornaments.
The white brass alloy includes tin and sometimes nickel, in addition to copper and zinc, with the color depending on the proportions of the principal ingredients.
Those chests were larger, especially in terms of height, than pieces from the Southern part of the peninsula. The need to increase the size of the bandaji was due to the higher position of the windows in the Korean houses from this area and the requirement to store thick clothing needed during the winter.
The average size of a Pyongyang bandaji was as follows: Height – 92cm, Width – 91.5cm, Depth – 46cm.
What makes them even more distinctive is the white brass metalwork that adorns the entire front of the chest. In the case of special "Pyongyang" bandajis, various motifs were often incised on each of the white brass plates.
Linden wood was the primary material used for construction in most cases. A dark stain was applied to conceal the plain and regular wood grain, and they were elevated from the floor with two lateral beams.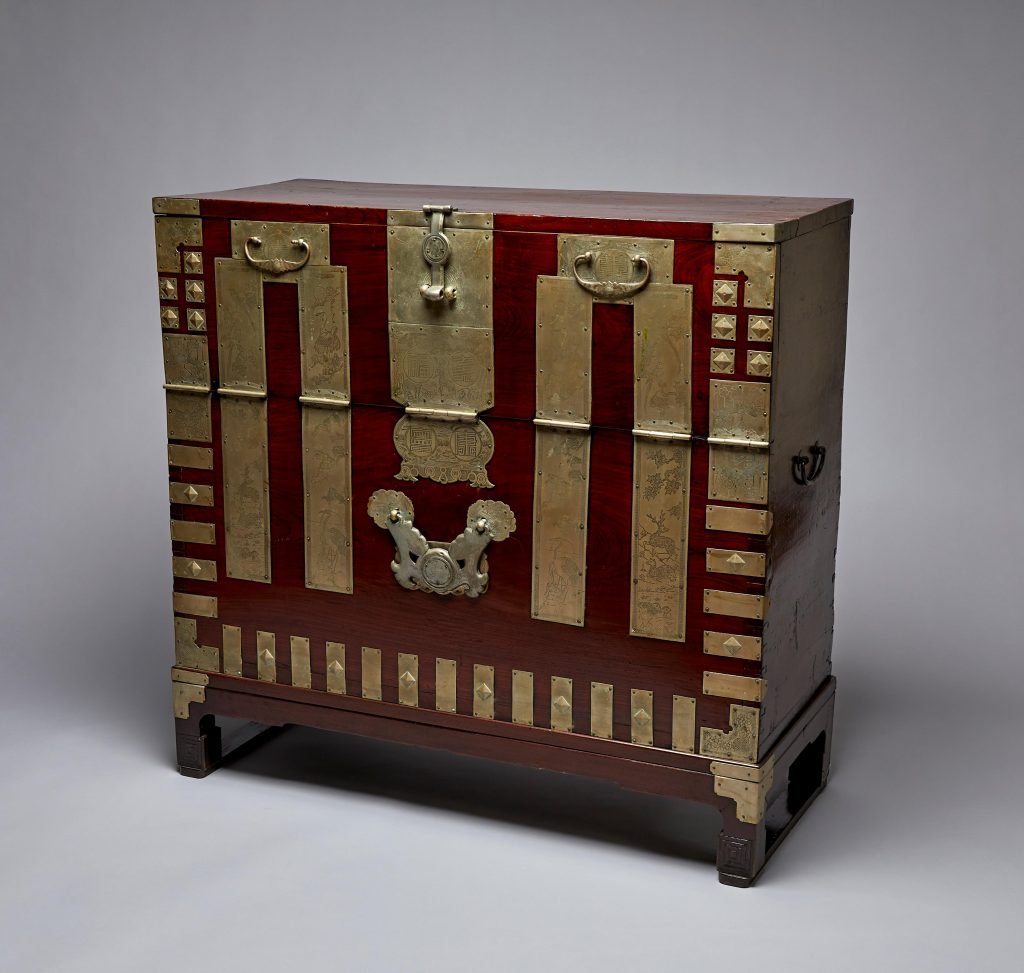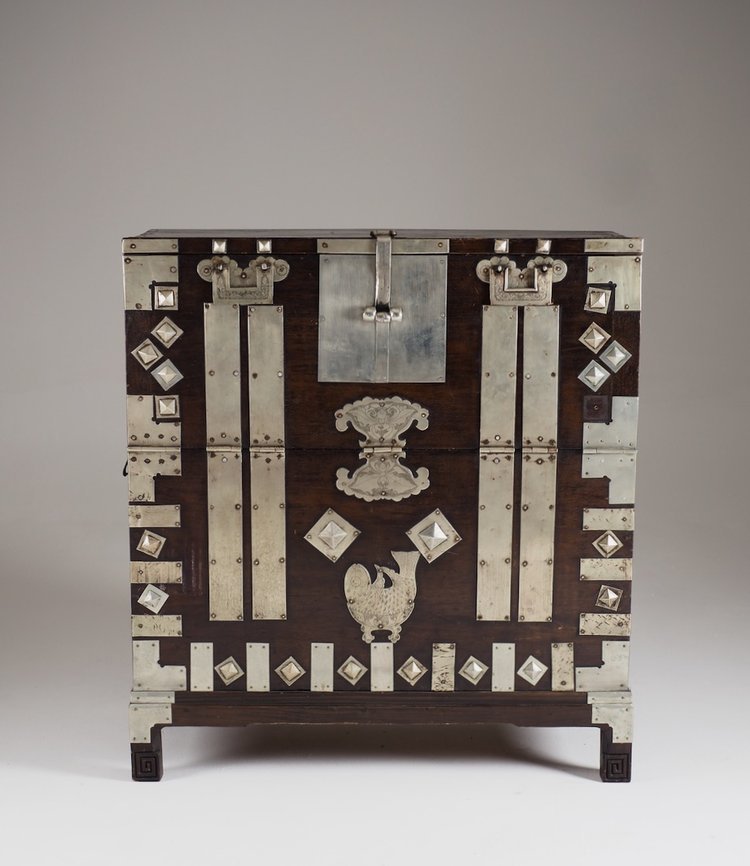 On the best pieces, metal plates were incised with various designs. These ornaments included the usual array of auspicious motifs, such as the phoenix, pine trees, flowers, and rocks. Chinese characters like 'happiness' (高兴 'Fu') and 'longevity' (壽 'Shou') were also present.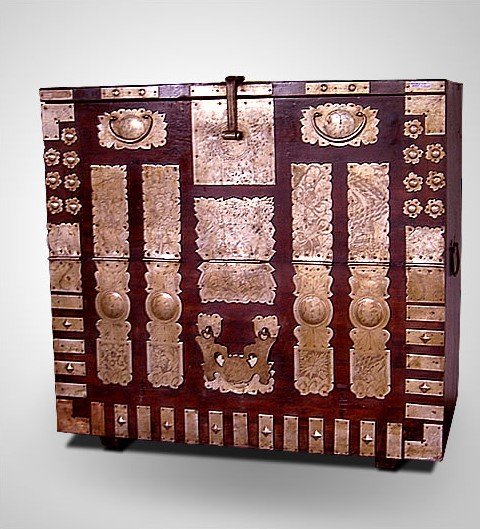 Until the late 1980s, most bandaji from Pyongyang were found in South Korea. The Korean War resulted in a migration of people from the north, with many families bringing along their chests and belongings.
Pieces found a few years ago in South Korea were typically of higher quality and owned by wealthier families. These bandaji were placed on a stand, which is unusual for original pieces. During restoration, new stands were added to these pieces.
By the 1990s, many pieces became available on the Chinese market, smuggled across the border with North Korea. The quality was average, and these chests required extensive restoration.
METALWORK MOTIFS OF DECORATION.
Pyongyang bandaji are large chests with numerous decorative brackets. Notable among their decorative patterns are Crucian carp and Namdaemun.
During the early Joseon Dynasty, some of these chests were adorned with holes in cast iron plates. They are characterized by their six or eight long rectangular hinges with brass decorations, which are attached side by side, giving them a substantial appearance. This design also masks the poor quality grain of the wood (typically linden).
Belt hinges.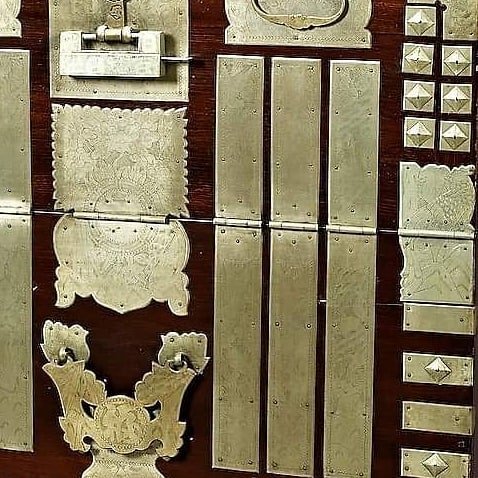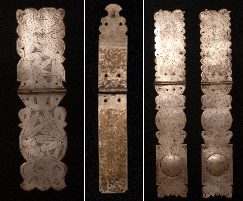 The South Gate motif – The Namdaemun gate.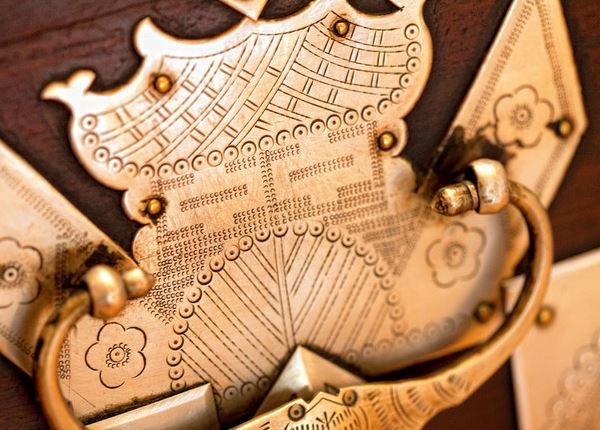 Handles.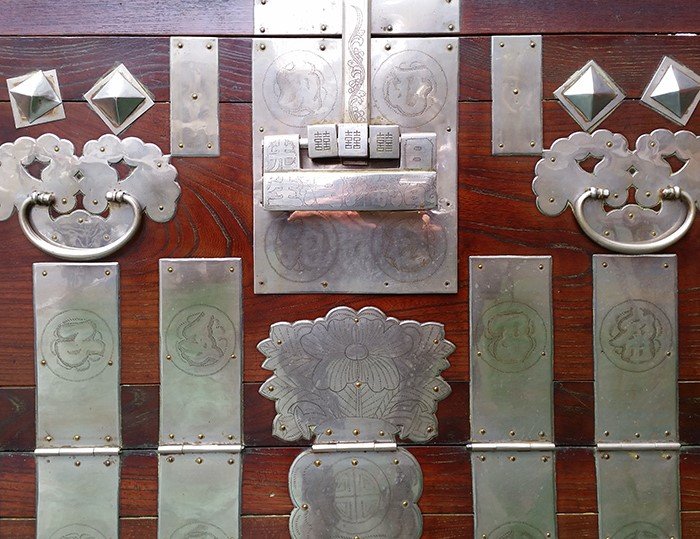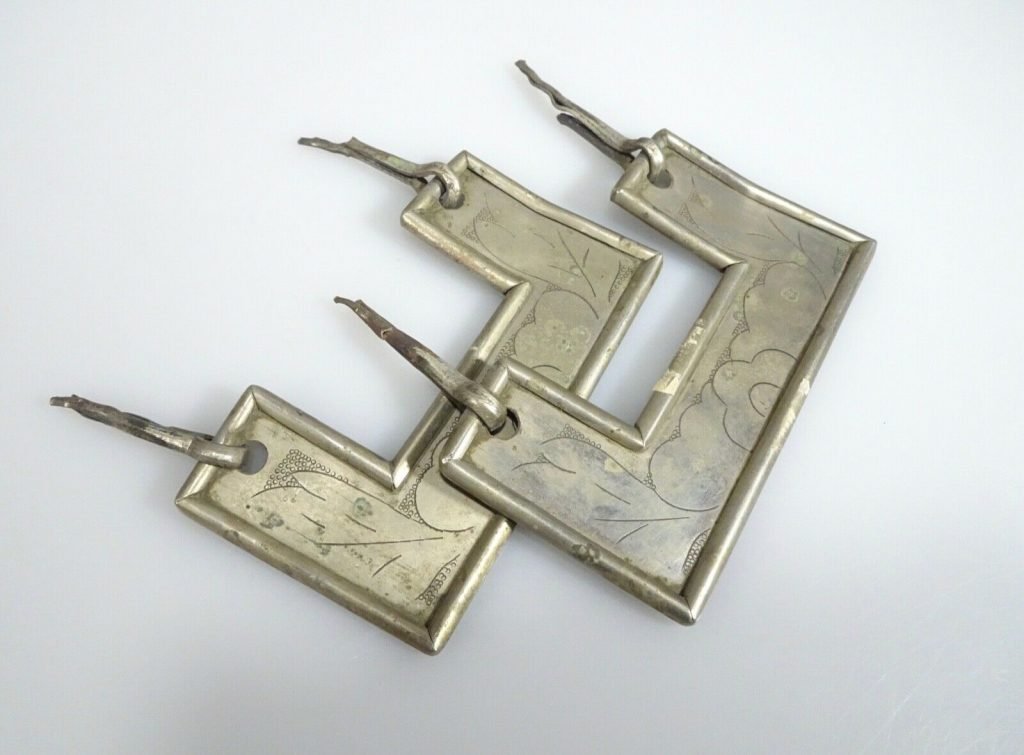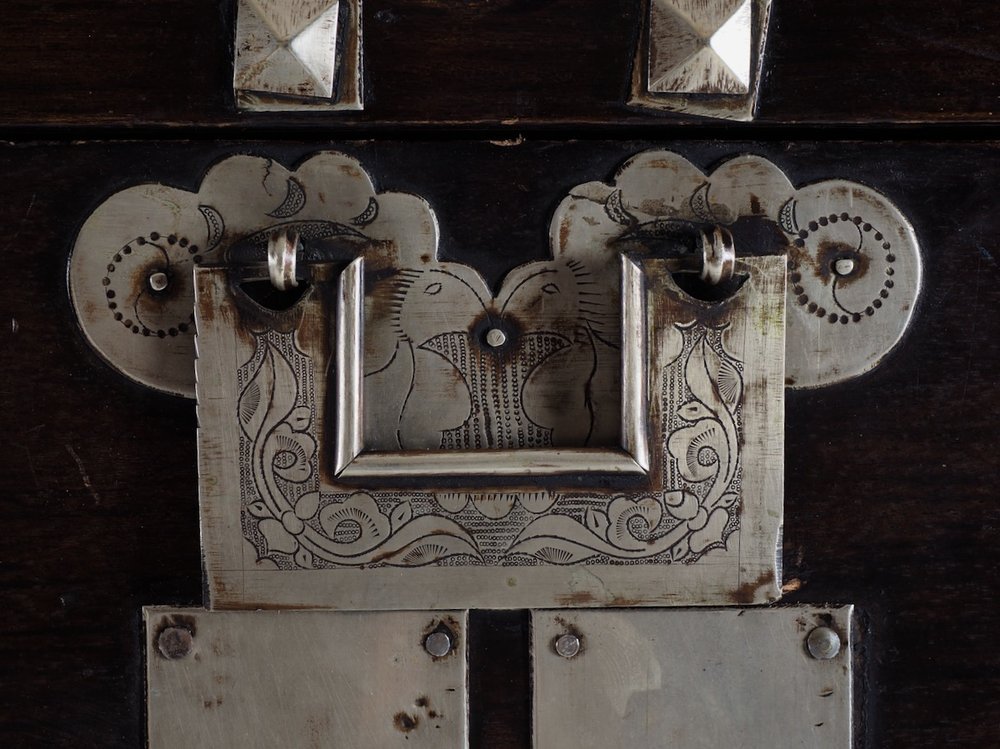 Lock plates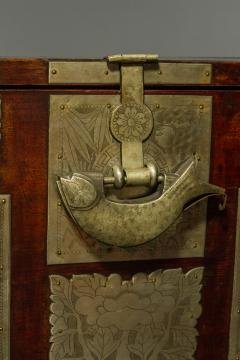 Plates & fittings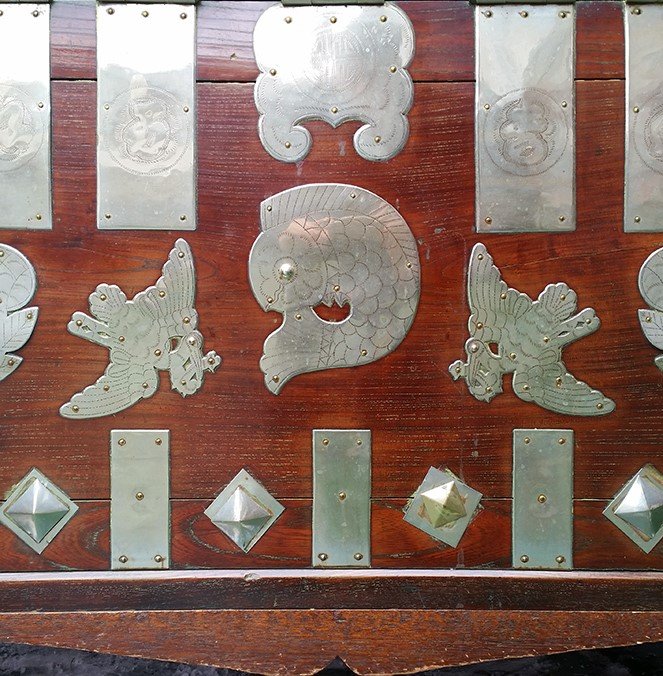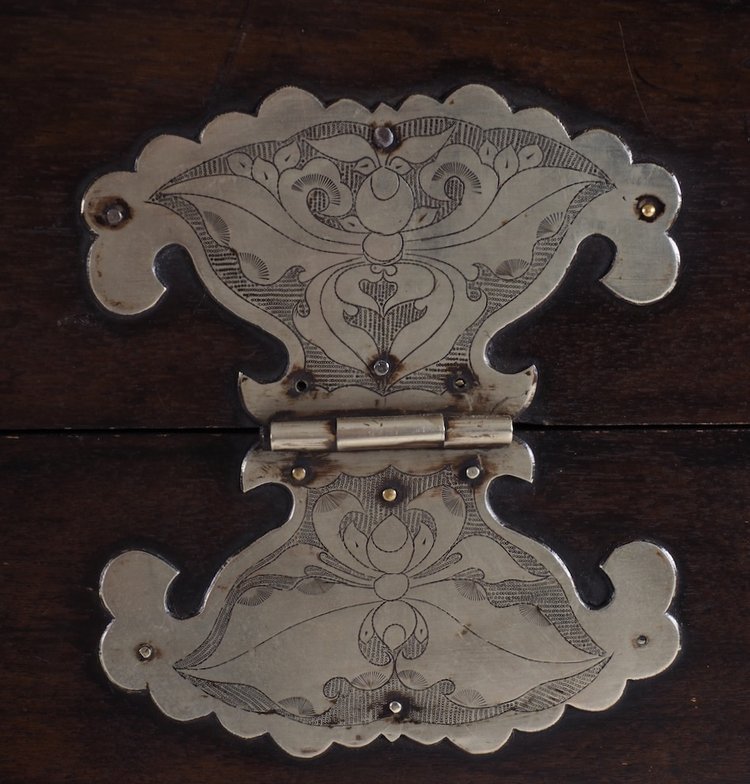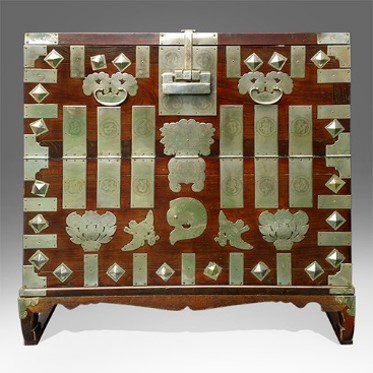 Despite the nearly universal use of white brass, we discovered that certain pieces of furniture were coated with yellow brass.