Among Korean furniture, the coin chest called "Ton-Kwe" in Korean is quite easy to recognize.
With an average size of H. 45cm, L. 100 – 120cm, D. 35 – 45cm, it consist of a low box made of heavy thick bold wooden panels.
This sturdy piece of furniture was usually made of elm or pine wood. Early pieces made during the 19th century displayed beautiful elm or zelkova wood. By the end of the 19th century, production increased and pine wood gradually replaced costly elm wood.
The coin chest is characterized by a top-opening design with a lift-up lid. Iron metalwork, without much decoration, was used to reinforce the heavy structure. The lock plates feature patterns such as squares, clouds, and flower motifs, sometimes with engraved symbols.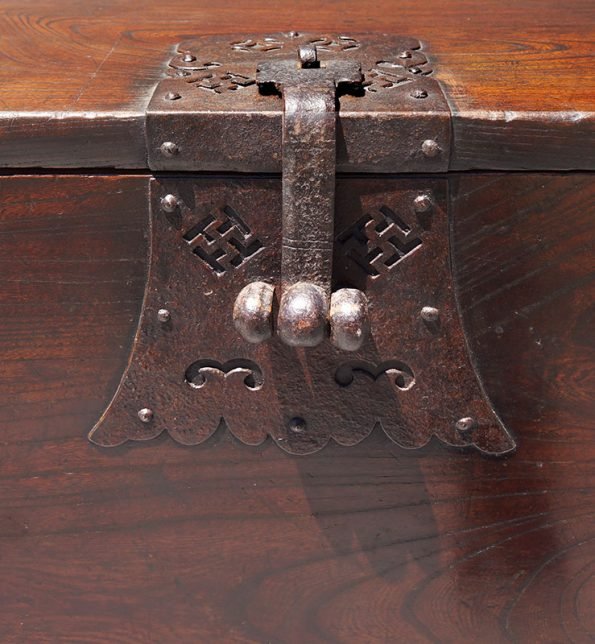 In 1633, the "Mun" became the main currency of Korea. Copper and bronze coins were issued and remained in circulation until 1892. These coins had very small denominations, and they were often strung together because they had little individual value. The sheer volume of accumulated coins necessitated the use of large storage containers to safeguard the family's money. The top lid is not hinged but can be locked at the front. (WIKIPEDIA).
On original coin chests, there is no evidence of the use of brass for making the hinges. This can be observed on restored pieces.
COLLECTIONS IN KOREA.