FEATURED IMAGE: Wedding Palanquin. Collection National Folk Museum of Korea, Seoul.
A palanquin is a covered litter, typically designed for a single passenger, and it is carried by an even number of bearers, usually two. The term is derived from the Sanskrit word "palyanka", which means bed or couch.
Palanquins come in various sizes and levels of grandeur. The smallest and simplest type consists of a cot or frame suspended by its four corners from a bamboo pole, carried by two bearers. Larger palanquins are rectangular wooden boxes measuring eight feet in length, four feet in width, and four feet in height, featuring openings on each side covered by curtains or shutters.
In Korea, wooden litters known as "gama" were used to transport royalty and aristocrats. Gamas were primarily reserved for royalty and government officials and were divided into six different types, each designated for various government official rankings. In traditional weddings, the bride and groom were conveyed separately to the ceremony in their respective gamas. Due to the challenging mountainous terrain of the Korean peninsula and the absence of paved roads, gamas were preferred over wheeled vehicles.
Palanquins can be classified into two categories: "roofed" palanquins and "open" palanquins. Open palanquins are referred to as "Pyeong-gyoja".
TYPES OF PALANQUINS.
"Yeon" (輦) and "Gago" (駕轎): These palanquins are used by the king. The "Gago" is exceptionally long, and the design of the bridge is intended to prevent the palanquin from shaking when carried by two horses with a person in front and behind.
"Deng": A palanquin typically carried by a princess or a prince.
"Sain-gyo" (Four-Person Carriage): A palanquin used by second-rank officials, government ministers, prime ministers, or by a bride on her wedding day when she travels from her parents' house to the wedding hall.
"Satgat" Palanquin: A palanquin-shaped structure surrounded by a white curtain, primarily used during funerals.
"Choheon" (軺軒): A single-wheeled palanquin carried by second-rank officials.
"Namyeo" (藍輿): A chair-shaped palanquin on which Chamui and Seungji of the 3rd rank are carried.
"Pyeonggyoja": A palanquin carried by officials of the first rank or higher, ministers, and senior ministers aged 60 or older.
"Jangbogyo": A palanquin built on four pillars and adorned with curtains on all four sides, allowing for flexible decoration and disassembly. It was mainly used by low-ranking officials.
"Chaeyeo" and "Gyaja": Palanquins used for transporting goods.
"A palanquin was used to transport the bride to the groom's home after the wedding ceremony. This traditional mode of transportation took the form of a small litter mounted on horizontal poles and was carried by a group of bearers on their shoulders.
During the sinhaeng (Korean: 신행, Chinese: 新行), which was the post-wedding journey of the bride to the groom's home, the bridal palanquin was adorned with a cotton band tied in an X-shape all around the vehicle, except for the front, or it could be covered with a tiger skin on top. It was splendidly decorated with multiple colors, tassels, and pictures of a pair of birds, animals, or fish to express wishes for the couple's conjugal harmony and fertility. There is a saying that goes, 'The couple will not share happy years together if one of the bridal palanquin's poles is broken.' The bridal palanquin was also referred to as a 'flower palanquin' (kkotgama), although not all flower palanquins were exclusively meant for brides. In contrast, the bridegroom sometimes used his own palanquin for the post-wedding journey home instead of riding a horse, which was more common. The bridegroom's palanquin usually featured minimal decoration." (Author: Kang Jaechul)

"In a traditional wedding, the procession of a bridal palanquin resembled that of the nobility. On their wedding day, commoners were elevated to the status of noblemen and had the privilege of riding a palanquin, typically reserved for the upper classes. The bridegroom led the procession, while bearers carried the bridal palanquin. They were followed by senior family members of the newly-wed couple, ceremony attendants, porters, lantern carriers, and others.
The newlywed couple was treated as esteemed members of society in all respects, including their attire, pumseok (Korean: 품석, Chinese: 品席, meaning 'rank cushion'), and pumdeung (Korean: 품등, Chinese: 品燈, meaning 'rank lantern'), which were strictly regulated based on social status. The bride was adorned with makeup and splendid clothing, including the hwarot (Korean: 활옷, Chinese: 闊衣, ceremonial robe), akin to that of a princess. The bridegroom departed for his home, wearing dallyeong (Korean: 단령, Chinese: 團領, a robe with a round neckband), along with a hat, belt, and boots.
The choice of materials for cushions varied according to official rank, ranging from leopard skin to tiger, dog, and lamb. However, the bridal palanquin was adorned with tiger skin, typically reserved for high-ranking officials. Similarly, the color of lanterns used was determined by rank. An exception was made for the bridal procession, which featured blue and red lanterns (cheongsadeungnong) similar to those used by high-ranking officials. This custom associated with the bridal palanquin and procession offers a glimpse into the ruler's affection for the people." (Author: Kang Jaechul)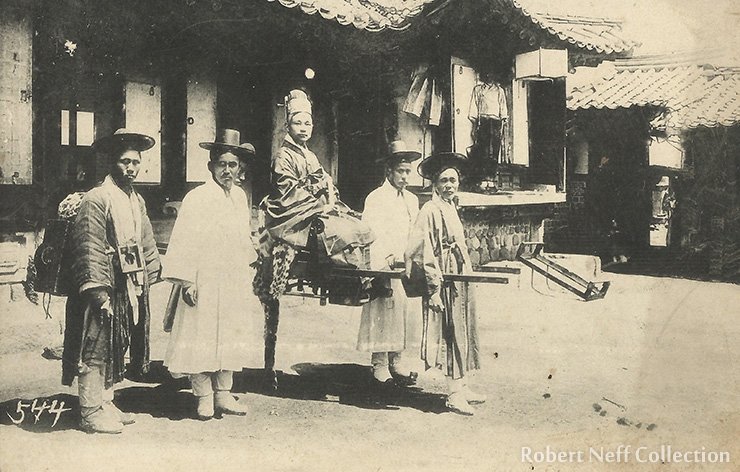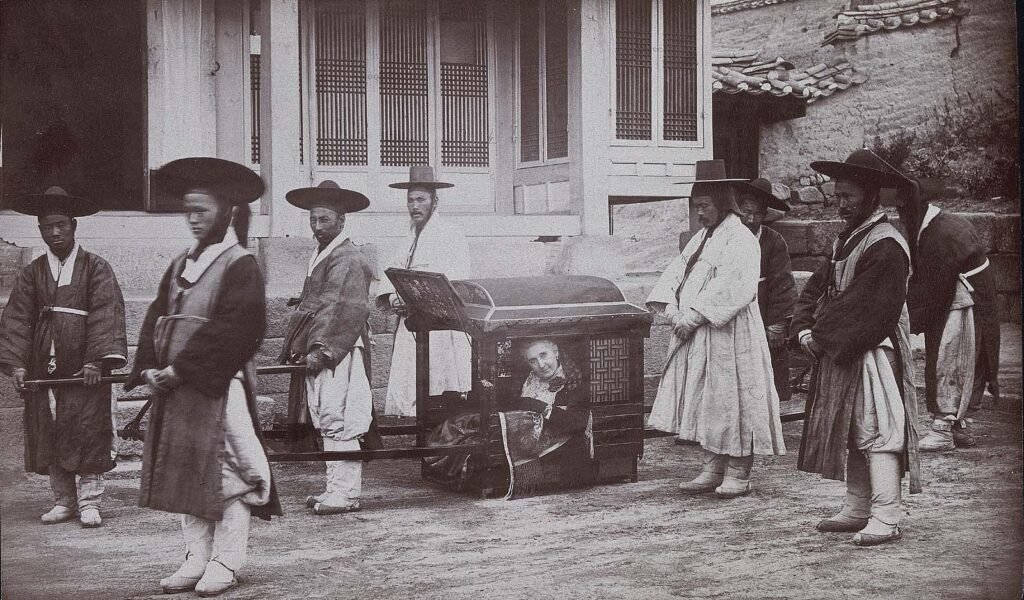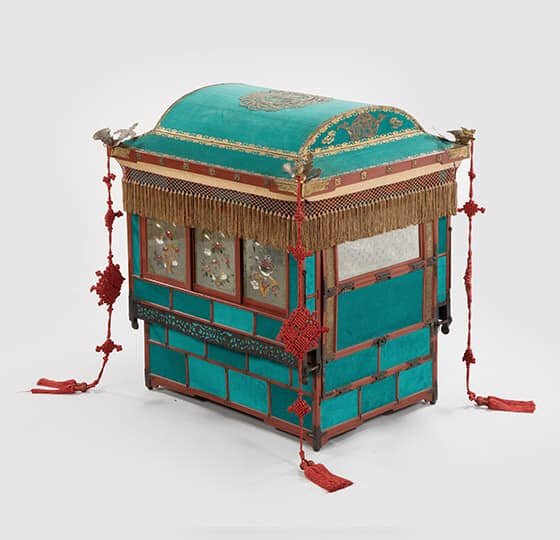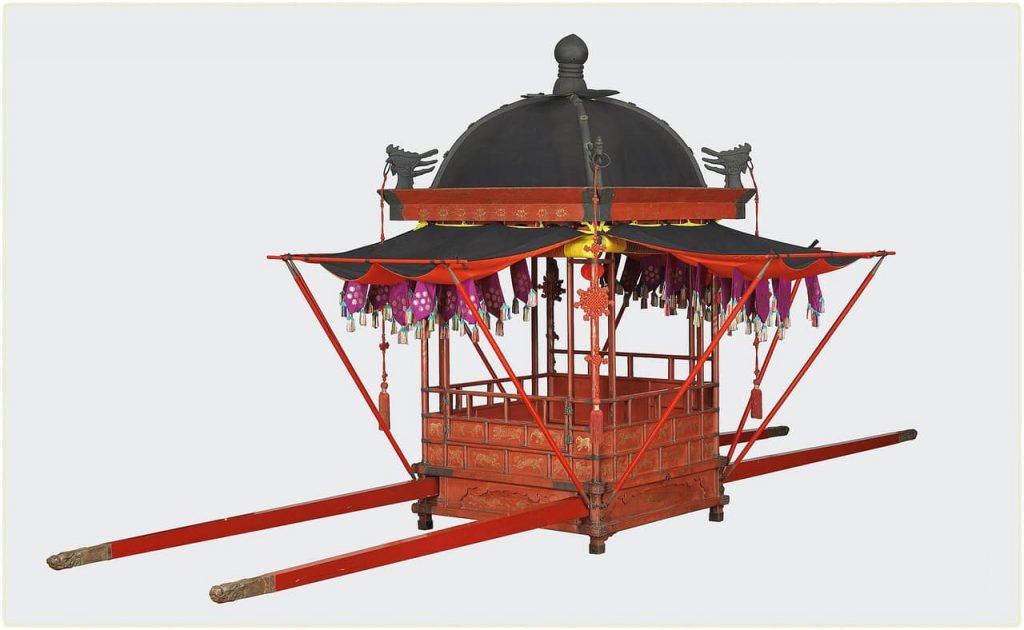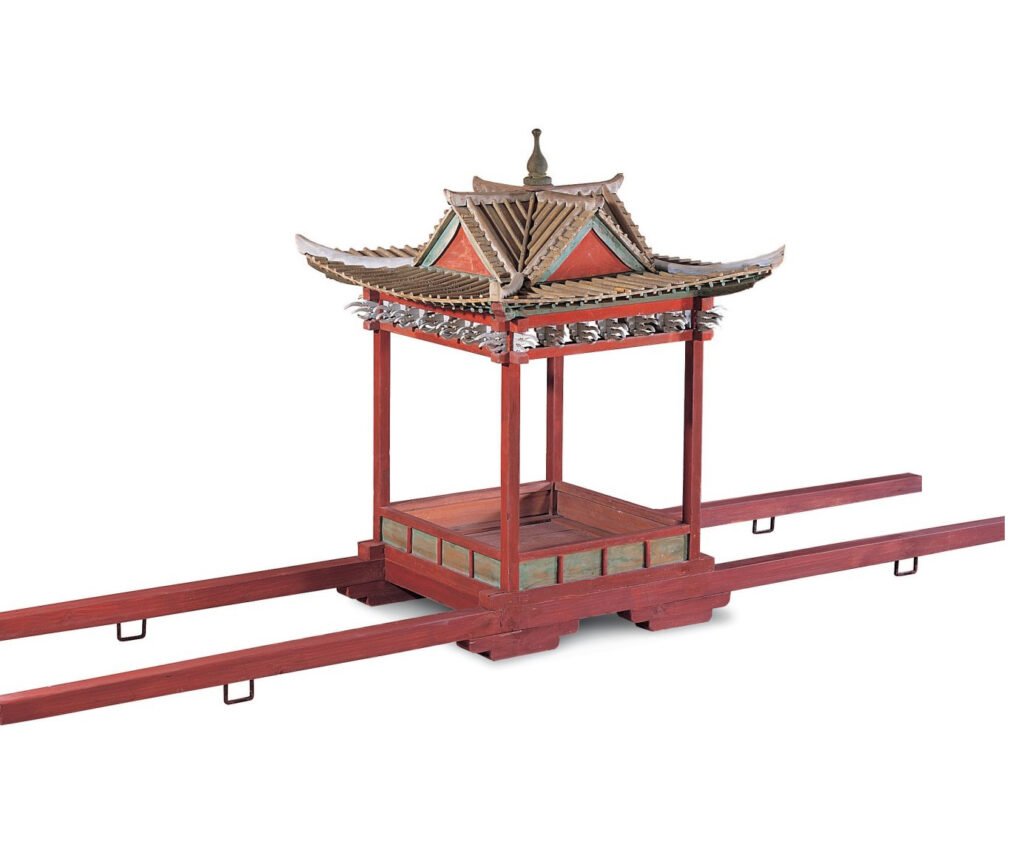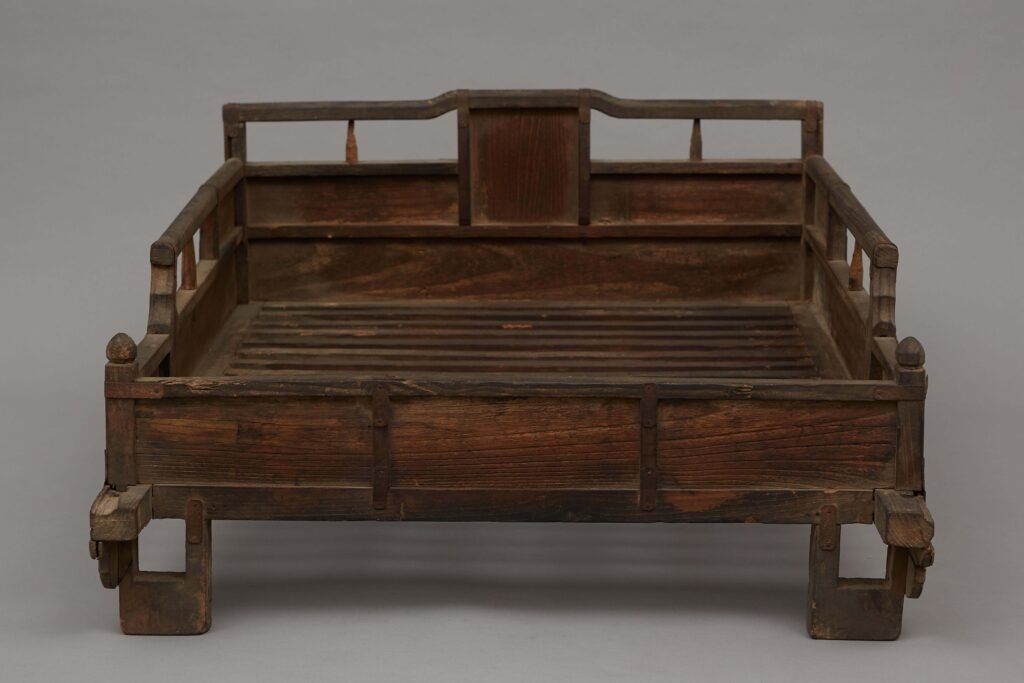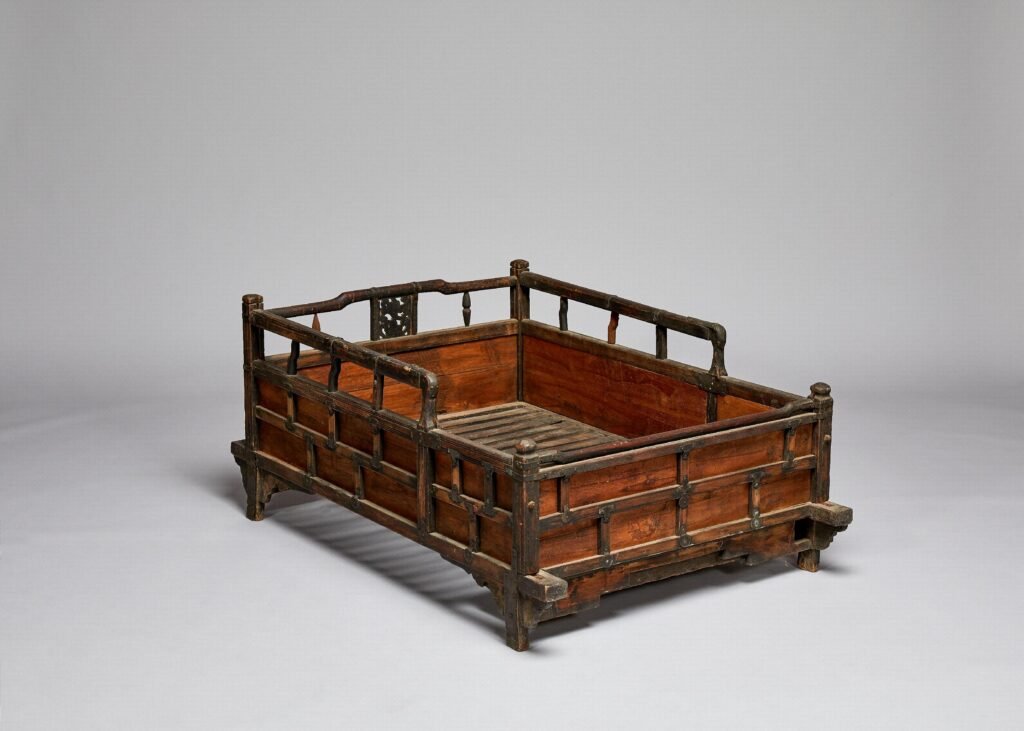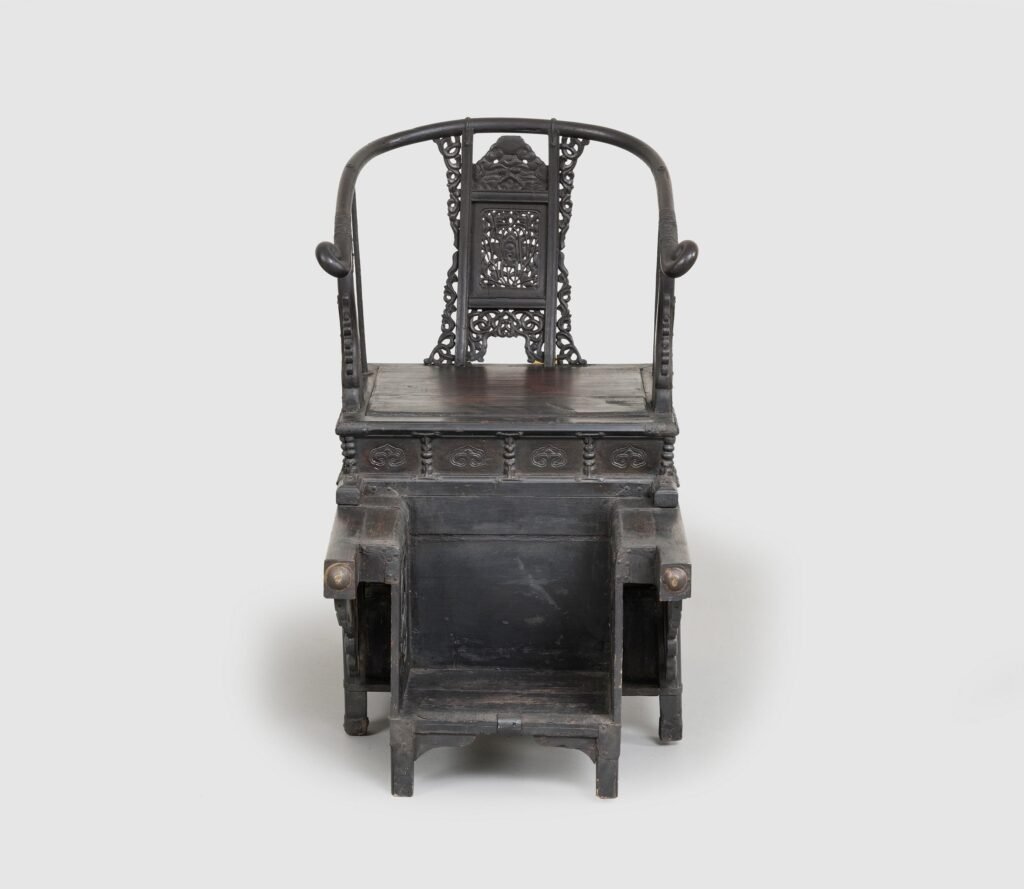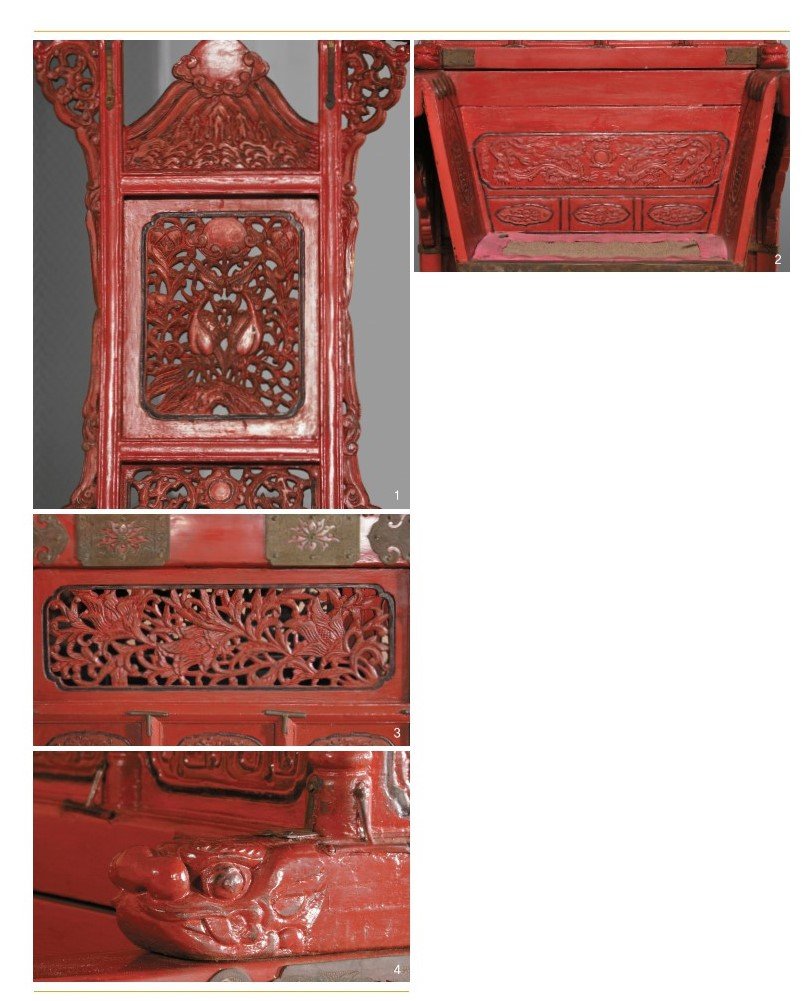 Apart from its use among the nobility and for marriage ceremonies, there was a smaller litter in Korea. This was used during burials to carry tablets and various fabrics symbolizing the spirit of the deceased. They were called "YO YEO" or "YONG YO" in Korean. More information at: The Path to afterlife